Side hustles are an awesome way to earn extra money and reach your goals. One of the best ways to make more money is through delivery app gigs. Delivering food doesn't require any special skills and is easy to start. Two popular options are Postmates and DoorDash. As a driver, you may look at Postmates vs. DoorDash and wonder which is the better company.
As with any opportunity, there are several things to keep in mind when driving for an on-demand delivery service.
If you want to make money on the side, our DoorDash vs. Postmates guide shows what to know before driving for either service.
Postmates vs. DoorDash: Which is Better for Drivers?
Services like DoorDash and Postmates allow customers to order food through their respective apps. As customers enter their orders, they become available for you to pick-up at the restaurant for you to deliver to their home.
Both apps work similarly, but there are a few things to keep in mind when choosing to drive for each service. Below is our review of working for Postmates vs. DoorDash and how to maximize earnings.
DoorDash vs. Postmates: Requirements and Availability
Both DoorDash and Postmates have similar requirements and are available in most major cities. To find if they're in your city, just do an internet search for "city name" + Postmates or DoorDash.
You can check on their websites to see if they're in your city or coming soon. I live on the outskirts of Kansas City and was able to find both in my area, even though I'm on the Kansas side.
DoorDash provides more opportunity, being available in over 850 cities according to their website. Postmates, on the other hand, is available in over 100 cities, according to their website.
Below are the requirements to drive for Postmates:
Valid driver's license and car insurance
Ability to pass a background check
You must be at least 18 years of age
You must own a newer smartphone
Ability to pass an interview (if applicable for your state).
Below are the requirements to drive for DoorDash:
You must be at least 18 years of age
Valid driver's license and car insurance
Ability to pass a background check
You must have a clean driving record
You must own a newer smartphone
The company may require orientation based on your city and state
Requirements to drive for either service may vary based on your location. You can also deliver meals for either service via bike or motorcycle in some cities.
Postmates vs. DoorDash: Pay
Postmates and DoorDash offer similar pay structures based on deliveries, but they are different in their starting pay and delivery fees.
DoorDash has its smallest payout starting at $6 per delivery. No matter how small the delivery cost, you as the driver will earn a minimum of $6. There are three other ways to earn extra money with DoorDash.
The first way you earn money is the initial $1 payout. This is when you accept the order. Then, there is the "pay boost" payout, which is determined by the miles traveled, order, and whether it's during a busy time.
The third way to earn money during delivery is via tips. The better the service or the bigger the order, the more money you have the chance to earn.
Postmates is set up a little differently, and pricing is based on a few key factors. You earn your base pay based on the pickup, drop-off, mileage, and minutes you drive.
Postmates only calculates drive time from the pickup location to the drop off. That means that driving to the pickup site to pick up the food does not earn you anything.
You can also earn money from tips, and during the busiest times, earn money due to peak pricing.
Pay for both services varies, depending on several factors, including how much you deliver, tips, and promptness. It's possible to earn up to $20 per hour delivering meals for either service, though reports show Postmates drives tend to earn a little more.
Both services pay each week, and you get to keep 100 percent of tips with either app.
Keep in mind you're considered an independent contractor, and not an employee of either company. It's best to set aside some of your earnings for taxes at the end of the year.
DoorDash vs. Postmates: How The Apps Work
Both Postmates and DoorDash have easy to use apps. If you're not tech-savvy, don't worry as they're simple to navigate. As long as you have a smartphone, you can use the apps.
DoorDash's app is a little more simplified than Postmates. One of the negatives of the app is that you don't get a built-in map.
That means that you'll have to use an alternative, or really know your way around your city. Postmates does have a map option, which makes it easier to deliver orders.
Both apps have an option to choose multiple orders at once. They call this "batching" and it allows you to pick up and drop off multiple orders in a specific location.
For example, if five people order from the same pizza shop, you can pick up those orders and deliver them to the appropriate customers.
This can save you time and keep you from driving to multiple food establishments. This is especially helpful if you're driving for Postmates, which doesn't pay you for driving to the establishment before pickup.
Postmates vs. DoorDash: Scheduling
With Postmates and DoorDash, you can set your own schedule. However, both options are a little different in how a shift or pick-up work.
With DoorDash, you must pre-schedule your shifts at least one week in advance. There is a newer option called DashNow that you can choose but this only happens during "busy" times of the day or week, where there are more orders than people delivering.
So, if you want some consistency, and a chance to get high tips and five-star ratings, DashNow may not be the best option.
Based on your scheduled shifts, you'll get orders and complete them until your shift is complete. Typically, new orders will stop once you're about five minutes close to the closing of your shift. Shifts vary based on what you choose, but can range from one to eight hours.
With Postmates, you don't have to schedule your shifts. To start picking up orders, all you have to do is open your delivery app and put that you're available for orders.
Make Extra Money by Taking Short Surveys
Taking short surveys in your free time can be an awesome way to earn extra money fast! The instant you finish a survey,
Survey Junkie pays you in cash via PayPal
. 6 Million users and an 8.9/10 Trust Pilot rating prove you can trust them.
Based on your location, you'll start seeing orders as soon as the app has one available. Keep in mind, Postmates is first come, first serve. If you don't pick up the order quickly, someone else will.
If you're doing this as a side hustle, regularly scheduled shifts may not work for you. However, if you know you want more of a second job, DoorDash could be a better, and more sustainable, option.
Pros and Cons for Both
Postmates and DoorDash are similar companies. Both offer delivery to customers from restaurants and sometimes even grocery stores in major cities of the United States. As a driver, the two have some pros and cons to keep in mind.
Pros
Work on your own time – With both Postmates and DoorDash, you get to decide when you work and how long.
You can earn tips – While you do receive a set payment for each delivery, you can also earn tips.
Nothing needed upfront – Aside from your vehicle, bike, or motorcycle you don't need to provide anything to start as a driver.
The apps – The apps as a driver are easy to use both on Postmates and DoorDash.
No special skills required – If you can provide good customer service and are willing to work, you can be successful.
Cons
Payment can be low – Unless you live in a larger city, your payment may be on the lower end per hour.
Car wear and tear – If you plan on driving and making deliveries throughout the week, keep in mind that you'll be putting more mileage on your car. This could mean more maintenance and potential issues down the road.
The pros and cons aside, either platform offers a good opportunity to get paid for driving your car and a flexible schedule. If you want a job with minimal requirements, either platform is worth considering.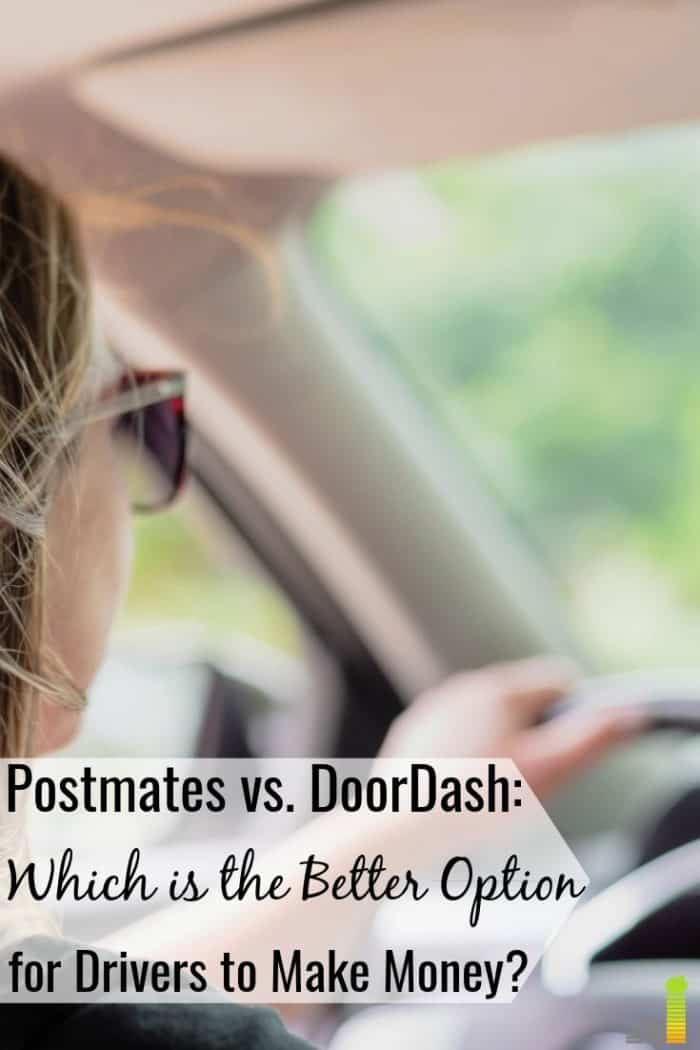 Working for Postmates vs. DoorDash: Bottom Line
The only way to decide if Postmates or DoorDash is better for you as a driver is to try both. If both are available in your area, you can apply for both and see which is best for you.
In my area, DoorDash is more popular, and more people use it to order food. Therefore, it's easier to get multiple deliveries, as well as earn more through the app. However, if Postmates is more popular where you are, it could make more sense to try them first.
Based on pay alone, DoorDash could be the better option. Their base pay is higher, and they pay you extra based on the orders and miles you rack up.
However, Postmates does seem to have the higher paying "peak" orders, so if you find yourself consistently working during the busiest hours, that may be a better place to start.
Overall, the biggest piece to deciding which one is better is deciding which one fits around your schedule, offers you the higher pay, and gets you the desired results that you want.
If one is paying you more, or if you find one of the apps easier to use, that will help you decide which is best to use. Both are great options for anyone looking to get out of the house and earn extra money.
What is your favorite way to make money on the side? What else is important for you when comparing Postmates vs. DoorDash as a driver? How important is a set schedule to you when comparing extra income opportunities?
The post Postmates vs. DoorDash: Which is Better for Drivers? appeared first on Frugal Rules.
Source: Frugal Rules