Life gets hectic, and sometimes we don't have the time to grocery shop. Instead of derailing your healthy eating habits or overspending on fast food, there are easier ways to simplify life. Grocery delivery services and meal prep delivery services are one of the best ways to buy nutritious food without breaking the bank.
It might seem unwise to pay to have food delivered to your home. Thankfully, many of the best grocery delivery services are reasonably priced. Plus, they save you time, allowing you to focus on other things.
If you've considered an online grocery delivery service or meal kit service, but don't know which to pick, our guide shares several of the best options.
Best Grocery Delivery Services
There are two options in the food delivery space:
Grocery delivery services
Meal prep delivery services
Grocery delivery services are great if you prefer buying your groceries in one place. They're also helpful if you have a specific diet you're shopping for, or if you need to shop at more than one place.
If you prefer to buy groceries to last a week or more, these local grocery delivery services won't disappoint.
1. Instacart
Instacart is one of my personal favorites when it comes to grocery delivery apps. My family has used Instacart for a little over a year, and we've saved over 100 hours on grocery shopping.
Instacart is an online platform that allows you to shop from grocery stores in your area. When you place an order, they assign a personal shopper to select and deliver your items.
You can typically order groceries for same-day drop-off, or schedule them later in the week. Stores vary from city to city, but the stores around me include Costco, Sprouts, Aldi, and Hy-Vee. The platform operates in over 1,000 cities, so they're probably available in your area.
Instacart has a membership program, but you don't have to join it to use the service. The key benefit is cheaper delivery costs. The fee costs $149 but offers free deliveries on orders over $35.
If you go without the membership, delivery fees range from $5.99 to $11.99 per order. Instacart charges more if your total under is $35 or less. They don't honor manufacturer coupons, but many stores allow you to use your loyalty cards.
Instacart does run sales from time to time, including offering free delivery promotions.
2. Shipt
Shipt is another online grocery delivery service that works like Instacart. For $14 a month (or $99 for the year) you can receive free delivery on orders $35 and over. If you go with a lower cost order, Shipt charges $7 for delivery. You must be a member to use Shipt.
Shipt offers a one-hour delivery window for your groceries. You can place an order whenever a store is open, even if they're open 24 hours.
Like Instacart, Shipt does have slightly higher pricing on all their items. Again, this is just because Shipt is offering a service, so they are charging for said service. The price difference isn't normally much higher than a few cents.
If you're a huge couponer, Shipt may not be the delivery service for you. They don't currently offer the option to use coupons.
And, unlike Instacart, they also don't allow the use of store loyalty cards. However, they do offer promotions in their app, and currently, offer two weeks of service for free.
Shipt is available in most areas, and they even make it easy for you to find the stores that deliver near your location. All you have to do is enter your zip code and they'll let you know if they're available to deliver.
3. AmazonFresh
Amazon Prime members rejoice! If you are in one of the cities that AmazonFresh is available, and if you have an Amazon Prime account, you can use AmazonFresh to get your groceries delivered to your door.
With a monthly fee of $14.95, you can order your groceries online and have them delivered to your door. There is an additional $9.99 delivery fee if you order less than $50 in groceries, so be mindful of that when shopping.
They also do not allow manufacturer coupons.
The fee is in addition to the standard price for Amazon Prime. If you don't have Amazon Prime, you can try a 30-day free trial to test the service.
One of the biggest perks to AmazonFresh is that if they are out of stock on your item, they refund you the money you spent. Additionally, they sometimes include a similar item free of charge.
You can expect same-day delivery with AmazonFresh, and worse case is the following morning.
While the selection of groceries on AmazonFresh isn't as extensive as Instacart or Shipt, you can also order "out of stock" groceries that ship to your house with Prime benefits.
Common examples include items like canned goods, paper towels, and other home items that don't require refrigeration.
Unfortunately, AmazonFresh is only available in 15 cities. But it is growing, so check back in if they aren't available in your area yet.
4. Walmart Grocery
I'm sure you're well aware of Walmart Pick-Up, but did you know that they also deliver through Walmart Grocery? It works the same as grocery pickup.
However, when checking out, you would choose delivery, enter your address, and have your groceries delivered to you.
Saving Money is Easy With Trim
Do you feel like you pay too much for your cable bill or gym membership? Let Trim save you money on the memberships and subscriptions you don't use.
The average Trim user saves $30 per bill with this handy little app!
Trim can negotiate lower prices for you with Comcast, Time Warner and more. Try Trim today!   
You can set delivery times within the platform to a time that works for you.
You also get the same Walmart Pick-Up perks as a delivery customer. If Walmart is out of stock of the item you order, they'll replace it with a similar item for the same price. If the item is cheaper, you'll receive a small refund.
They'll also replace or refund any items that are out of stock or aren't up to your standards. You can't use manufacturer coupons with Walmart Grocery, but you can use their app to find lower prices on items.
The delivery fee for Walmart delivery orders is $9.95 per order, and your order must be at least $30. However, Walmart just released a new subscription service, called Delivery Unlimited, that allows you to receive free delivery for all orders. The service is $98 for the year or $12.95 a month.
The above best grocery delivery services, aside from Amazon, are available in most areas. Local stores may offer online grocery delivery services. Check with your favorite store to see if it's a service they offer.
Best Meal Prep Delivery Services
Along with grocery delivery services, you can use meal prep delivery services to save time. These are great if you don't want to waste food, snacks, and other items already in the house, or if you just want to get new meal ideas.
Below are a few of the best meal kit delivery services to save time in the kitchen.
5. HelloFresh
HelloFresh is one of the most popular food delivery services on the web. There are four different meal options you can choose with HelloFresh. Those are:
Low calorie
Vegetarian
The Classic plan – this includes meat and fish
The Family plan
Each week, you can select the meals that stand out the most to you and have them delivered to your door. HelloFresh covers dinners only, so keep that in mind.
If you want leftovers, you could order a bigger plan, and then save a serving or two for yourself. However, HelloFresh sends you just enough to fit the serving sizes you asked for.
For example, if you order for a family of four, you'll receive four servings of each meal.
Each plan has a different cost per serving, but expect to pay up to $8.99 per serving, though as low as $4.99. You can save more by using coupons, or by choosing the family plan.
You can test the service through their current promotion of $20 off each week for the first four weeks, plus no delivery fees. Their chefs add new meals each week, so HelloFresh is an excellent choice if you like variety.
The biggest cons I noticed about HelloFresh is that they use a lot of packaging and plastic. You can have meals delivered for up to seven nights per week and can pause your subscription whenever you wish.
6. Grubhub
Grubhub isn't a true meal kit delivery service, but they're worth including on our list. Instead of delivering a box of ready to prepare meals to your door, Grubhub works with restaurants to deliver ready-to-eat meals to your home.
What makes Grubhub unique is they work with restaurants to provide specialized meals for your needs. Some of those options include:
Gluten-free
Kosher
Organic
Vegan
Of course, you can order other meal types, but they specialize in providing different options. Other meal delivery services don't offer the same possibility.
The Grubhub platform serves roughly 500 cities across the country, so they may service your area. You can check availability on their site by inputting your zip code.
To order meals on Grubhub, you first download the app. Once you place your order, you can monitor the status to see when to expect delivery. You will pay a delivery fee for the meal, but that is typically set by the respective restaurant.
7. Blue Apron
Blue Apron is the final option on our list of best meal kit delivery services and works similar to HelloFresh. You can choose between four different plans from Blue Apron. Those are:
Family plan
Regular plan
Vegetarian plan
Weight Watcher plan
If you're a wine lover, Blue Apron even allows you to pair meals with wine from their platform. Pricing at Blue Apron is more expensive than HelloFresh as they start at $7.49 per serving and can go over $9.99 per serving.
Like HelloFresh, you can pause deliveries whenever you like.
As someone who's tried Blue Apron, their serving sizes are slightly larger than other delivery services. So, if you have a hungrier family, this may be a good option to consider.
You can read our review of Blue Apron to learn more about the service.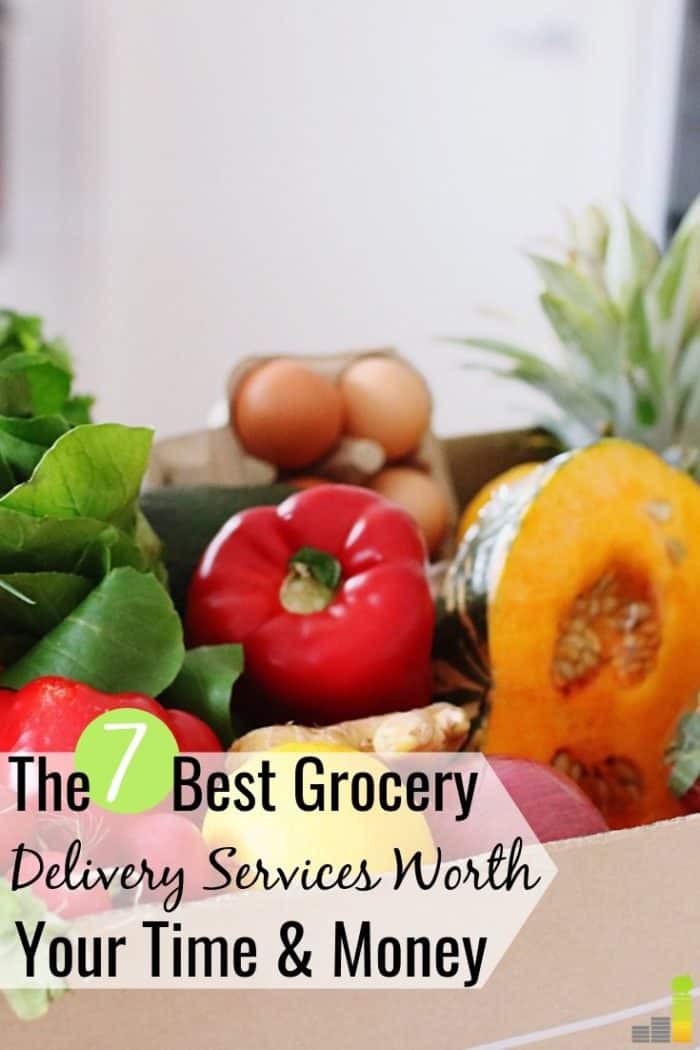 Top Online Grocery Delivery Apps: Bottom Line
Whether you choose grocery delivery services or meal delivery services, there are many options to receive groceries and meals that fit your lifestyle and budget.
It may feel odd to have meals delivered to you, but the time savings are often worth it.
Many of the services on our list regularly offer promotions. Make sure to check for deals before ordering to save more money.
What meal prep delivery services have you tried? Is the time savings worth it to you to have meals or groceries delivered to your home? What do you look for when looking for grocery delivery services?
The post 7 Best Grocery Delivery Services appeared first on Frugal Rules.
Source: Frugal Rules