Who hasn't dealt with spare change at some point? All those loose coins floating around your car cup holders, furniture, and the pockets of your laundry can eventually become a nuisance. Collecting your change and finding places to change coins into cash for free, however, is an excellent way to save money.
Picture the classic change jar with a goal labeled on it like "vacation money". This is a simple and painless way to turn that bothersome loose change into something meaningful. Once you've gone to all that work of gathering all of those coins, the next step is finding places that offer free coin counting.
Needing to cash in coins for cash is a pain if you have no idea where to go. Some places make it simple to do but others charge fees, which take a major bite out of your saving efforts.
If you like to save your coins in a change jar, you might wonder "where can I change my coins for cash for free?" This guide shares a few of the best options.
If you're looking for a free coin counting machine near you, here are a few options you can consider.
Where Can I Change My Coins For Cash Near Me?
In searching for where to change coins into cash, you likely find Coinstar as an option. According to their website, the company has over 20,000 kiosks in the four countries they operate in, making it easy to convert coins into cash.
There is one problem with Coinstar, however. They charge 11.9 percent to change your coins into cash.
Ouch!
Though a reliable option, there are plenty of free coin counting machines that don't penalize you for turning coins into cash. Below are several of the best options to avoid the Coinstar fee and turn coins into cash for free.
Local Bank or Credit Union
When you do a search for "where can I change coins into cash near me?", a common option is a bank or credit union. Banks normally don't say no to an exchange by a customer.
If a non-customer comes in and asks to exchange coins, financial institutions may have stricter rules.
Some won't do it at all, and others may give you a limit of $20 or $50. Some locations don't have a coin counter though so it may be more difficult to convert coins into cash.
If you have a large amount of change, your best option is to come in the morning when most banks are less busy.
When the bank or credit union has an actual coin counter machine, this makes it easier to accomplish. My son's credit union has one and it's super convenient, though it's only available to customers.
You can insert all of your change and instead of receiving cash, the machine will print out a slip with your total. From there, you give the slip to a bank teller and either deposit the amount into your account or receive the cash.
Other banks only accept rolled coins. They may offer wrappers for free, though some banks charge for them. If you deal with a lot of coins, you may want to buy wrappers on Amazon to simplify your efforts.
Roll Your Own Coins
Another way to change coins into cash is by rolling your own coins. As I mentioned before, some banks provide coin roll wrappers for customers to use for free, while others charge a fee.
They make rolls for every denomination, including $1 coins.
I once saw a bank customer exchange two rolls in one transaction (or $50 in $1 coins). The rolls are easy to use, simply hold a finger on one end of the wrapper and use the other end to load the coins.
Wrappers have denominations clearly listed. All you would have to do is match that number with the number of coins they have and fill the roll accordingly.
The best way to double check your math is to make stacks before you load the coins, then re-count them while wrapping them. Having the coins pre-wrapped saves a great deal of time when trying to exchange the coins for cash.
However, be prepared for tellers who want to double-check your coin rolls before giving you cash to ensure the amount is accurate.
If you save a lot of coins, you may want to consider a coin counting machine from Amazon. You can also pay your children to count and roll coins to involve them in the process.
Retail Stores
Retailers often don't mind helping customers out by allowing them to change coins into cash for free. Some don't offer this service, but some provide it as a service to customers.
Keep in mind this service varies by location and retailer. A few of the retailers that offer Coinstar kiosks, or free coin counting machines are:
Albertsons
CVS
Hy-Vee
Kroger
Meijer
Target
Walmart
You want to go to the customer service department first to attempt to change your coins into cash. They may direct you to their Coinstar kiosk, or offer to count the coins in their own machine.
Supercharge Your Savings Today!
Start earning more on your savings right now with
CIT Bank
. They pay 2.30% interest on your balance when you commit to depositing at least $100 per month into your savings account via ACH. Plus, they charge no fees, which helps you save more money faster.
Enjoy quick and easy access to your money, which is FDIC insured up to $250K. Start saving today with as little as $100 per month!
If you regularly plan to change coins into cash, ask your local store what they offer. This helps you know what to expect for the future.
Coinstar
If you do an internet search for "coin counting machines near me" you will encounter Coinstar as an option. Though readily available, they pose one problem – they charge 11.9 percent to convert coins into cash.
That is a large chunk of money, especially if you have a lot of coins.
One advantage is that Coinstar machines are simple to use. Just drop in the change and it does the rest.
Stores put Coinstar machines in the front of the store so they're noticeable. Customers can walk into the store and take care of their business without dealing with anyone else.
The machines are typically fast at completing orders regardless of how much change you have. You can find a kiosk on the Coinstar website by entering your zip code or city you reside.
Most grocery stores, and other popular retailers typically have a Coinstar kiosk. This makes them convenient to use if you're willing to pay the price.
If you're not, there are ways to avoid the Coinstar fee. Below are a couple of the best options.
eGift Card
One way to avoid the Coinstar fee is by selecting an eGift card to redeem your balance. This lets you choose a gift card from one of the companies Coinstar has an agreement with.
A few of the top options are:
Amazon
Best Buy
Chili's
GameStop
Home Depot
Nike
Southwest
Starbucks
There are minimum and maximum amount thresholds to meet for eGift card eligibility. Most are as low as $5.
There are numerous other partners in the retail, food and drink, entertainment, e-commerce, and travel categories. The kiosk will print the gift card on paper, but this works just as well as a plastic gift card.
You can use the gift card code on in-store purchases and online.
Donate to Charities
Customers can donate directly to charities from an in-store kiosk. Depending on the kiosk, the type of charities will vary. Coinstar works with various charities, including:
American Red Cross
Children's Miracle Network
The Humane Society
UNICEF
World Wildlife Fund
Kiosks accept any amount and donations are tax-deductible, so customers should keep track of receipts. American Red Cross just asks for $10 to help provide a hot meal to a disaster client. The Feeding America food banks use $1 donations to help provide 11 meals.
If you want a simple way to donate to charity, this can be a good option.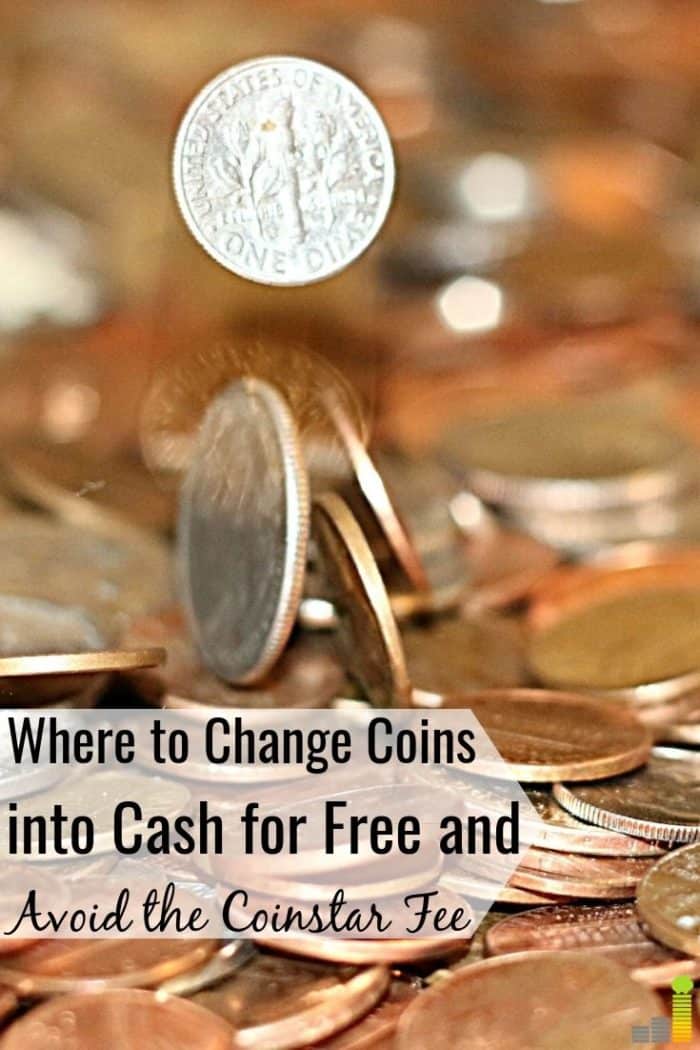 Free Coin Counting Near Me: Bottom Line
Turning coins into cash is easier than you might think. Many locations do it and some of them may be really close to you.
Big-name stores tend to be have partnerships with Coinstar kiosks so they are located conveniently in the store near the entrance so you can cash in coins when you finish shopping.
If you don't want to pay for the service, take advantage of ways to avoid the Coinstar fee. It may take a bit of work, but it is possible to find free coin counting near you.
Where do you go to change coins into cash for free? What other simple things do you do to save money? How do you avoid the Coinstar fee?
The post Where to Change Coins into Cash Near Me appeared first on Frugal Rules.
Source: Frugal Rules