Does a day go by where you don't use the internet? I doubt it. Whether you're using a search engine like Google for work, or personal use, we all do it at least a few times per day. Many don't realize it, but you can get paid to search the web.
This is one of the easiest ways to make money online. Google isn't the only search engine and some sites and apps allow you to get paid for searching the web. While you won't become rich, it does represent an excellent opportunity to earn extra spending money.
Legit Ways to Get Paid to Search the Web
As with any opportunity to make extra money, not every option is worth your time and effort. However, some services offer a legit way to earn extra money on the side doing something you're already doing.
If you want a new way to make money, below are the seven top options to get paid to search the web.
1. Swagbucks
Swagbucks is one of my favorite loyalty rewards sites that allows you to make money searching the internet. Not only will the site pay you to search the web, but you can also earn money in the following ways:
Completing surveys
Using their online shopping portal
Watching sponsored videos
Playing games online
You can even earn $3 if you refer a friend. Each task you complete earns Swagbucks, otherwise known as SB points. Members can earn multiple times per day by searching with Swagbucks.
They also have an extension that makes it easy to get paid for searching the web.
The amount of Swagbucks you can earn per search is between 1-1,000 so this is a passive way to earn Swagbucks that you can redeem for cash. Swagbucks likes to verify by having you enter a captcha code to receive your points for searching.
You can redeem points once you reach a 2,500 balance, which equals $25. You can redeem earnings in cash via PayPal or earn free gift cards. The platform gives you a $5 bonus to help start your earning.
Check out our Swagbucks review to learn more about the platform.
2. InboxDollars
InboxDollars pays users to ditch traditional search engines and use theirs. The InboxDollars search engine is an alternative tool to use when trying to find information on the web.
Like Swagbucks, InboxDollars pays you to surf the web. The platform pays you to perform other tasks, such as:
Testing new products
Downloading coupons
Watching sponsored videos
Reading sponsored emails
For every four searches done with InboxDollars, members get progress on the scratch and win bar. Each new tier on the scratch and win bar unlocks potential earnings. The top earnings reported for searching is $10, $25, or even $100.
The typical amount you can earn is anywhere from a few cents up to $0.25 per search. The number of searches needed to unlock rewards varies depending on how often you search.
You can redeem earnings once you amass $30, and InboxDollars pays you $5 to start.
Setting the InboxDollars search feature as a homepage on a home computer is the best way to remember to use it.
Check out our InboxDollars review to learn more about the platform.
3. GrabPoints
GrabPoints rewards its users with points for completing simple tasks like searching the web. They also give points for tasks like watching videos, taking surveys, and downloading apps.
Completing these tasks results in members being able to cash in their points for gift cards. Some of the gift cards GrabPoints offers are for Xbox, Amazon, and the PlayStation Store.
You can even use points to earn free Google Play credits. Members can also choose to receive payment in cash through PayPal or Skrill.
A balance of 3,000 points is redeemable for $3 when using PayPal or $5 for 5,600 points via Skrill. For each friend that uses a member's referral code, they receive 500 free points.
Regardless of their country, the person referred must earn 1,000 points before the member will receive their free bonus. Some of the active members on GrabPoints earn between 10,000-20,000 GrabPoints per day, according to their website.
4. Qmee
Qmee is an app designed with its users in mind. One way to earn rewards through Qmee is by taking part in their personalized surveys that fit your user profile.
Make Extra Money by Taking Short Surveys
Taking short surveys in your free time can be an awesome way to earn extra money fast! The instant you finish a survey,
Survey Junkie pays you in cash via PayPal
. 6 Million users and an 8.9/10 Trust Pilot rating prove you can trust them.
Qmee also gets consumer's opinions which can also make an impact on future products that the company puts out. Users can also use this site to get paid to search the web and shopping online.
All you have to do is add the Qmee browser to an internet browser to start earning. Each time you search, you'll earn points you can redeem for cash.
Brands pay to appear in Qmee's search results. This doesn't change the regular search results you'd see without Qmee. They just add in a few more that earn you money.
The results will also show item price comparisons and coupons to help save money. The best part of Qmee is they have no minimum redemption amount and you can receive earnings via PayPal, check, or gift card.
5. Microsoft Rewards (Bing Rewards)
Microsoft Rewards allows people to get paid to search the web. It's free to use and gives you points for searching on Bing.com and buying things on Windows 10 or the Microsoft Store online.
Anyone who has a Microsoft account can use this feature. Just sign up and stay signed in to start earning rewards.
Rewards include sweepstakes entries, gift cards, and the ability to donate to charity. For those people who were Bing Rewards members before the transition to Microsoft Rewards, your previous points automatically transfer over.
Microsoft Rewards works internationally so you can earn rewards even when you're using Bing overseas. The platform rewards users even more if they use the Microsoft Edge browser when using Bing.com.
You can use Microsoft's digital personal assistant Cortana to search with Bing, which makes it easier to earn.
It typically takes 5,000 points to earn $5. Points will expire if there is no earning activity in 18 months. Points for shopping with Microsoft Rewards typically appear within 72 hours of purchase.
6. FusionCash
FusionCash is another excellent option to get paid to search the internet. The platform is one of the best sites like Swagbucks as they pay you to perform tasks online, including:
Taking surveys
Watching sponsored videos
Using their cash-back shopping portal
FusionCash also offers a referral program. For each person you refer that confirms their email when completing the registration process, you earn $1.
When they complete their first order you earn $2, and each time they cash out with FusionCash you receive $5. This bonus lasts for the life of their account.
FusionCash likes when their members are active in the forum. If someone posts at least 30 times in one month, they'll receive $3.
FusionCash offers a $5 bonus when you sign up simply for completing your profile. Payments process via PayPal, check, or direct deposit. The minimum balance required to cash out is $25.
7. Honey
Honey is the final option to help you get paid to surf the web. The platform is an extension that you can add to Chrome, Safari, Opera, or Firefox. Upon installation, the extension searches for savings on your behalf.
Honey works with thousands of merchants to find discounts. A few of those retailers include:
Amazon
Best Buy
Pizza Hut
Target
You use Honey like any other shopping portal. Users must shop like normal with the Honey extension added and when they are ready to check out click the extension and Honey will try and find any way to help lower your cart total.
The platform has awarded over $8 million to members since beginning, according to their website.
If there aren't any savings for those particular items, members still get gold points for using the extension. These gold points are transferrable into gift cards.
The Honey extension recently became available on mobile devices, giving more opportunities to make money searching the internet.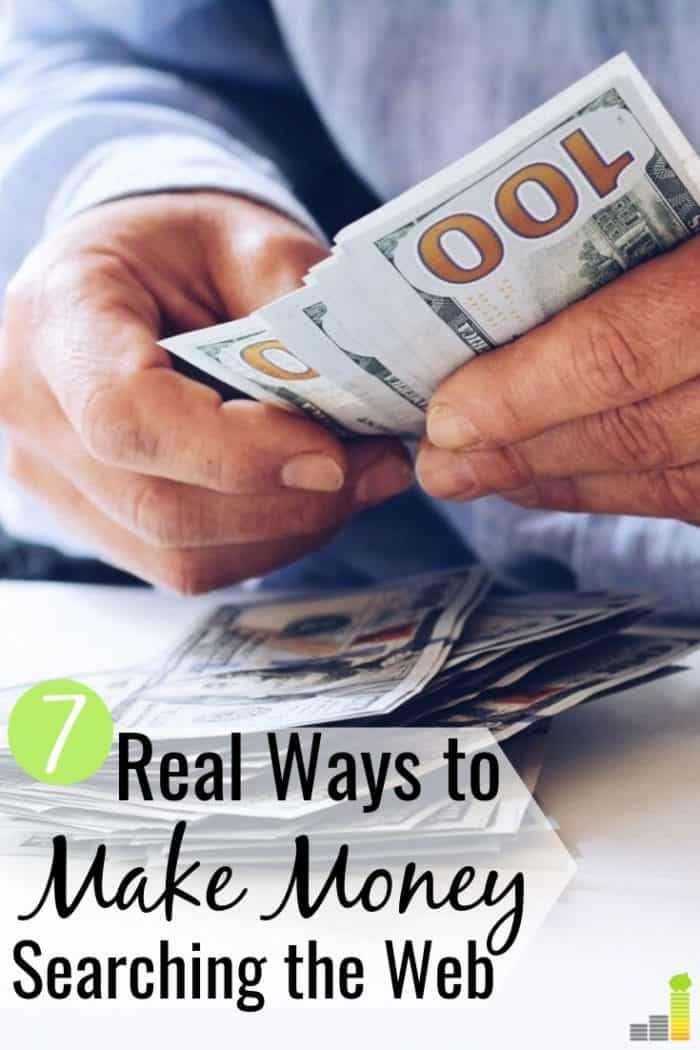 Get Paid to Surf the Web: Bottom Line
If you want to get paid to search the web, there are plenty of available options. While Google is the most well-known search engine, various alternatives provide similar results.
Since you're searching online anyway, it makes sense to use some of these options to make extra money. It may not get people rich, but the extra money or gift card rewards earned can diversify your income, help pay a bill, or contribute to savings.
It's simple to set up and all of these options are free, so it's a no-brainer. You can even test out more than one option to increase your earnings.
How many times do you search the internet each day? What options do you use to get paid searching the web? What's one mindless way you make extra money on the side?
The post 7 Real Ways to Get Paid to Search the Web appeared first on Frugal Rules.
Source: Frugal Rules