If you're wondering how to make money without a job, it's not as far-fetched as it seems. Maybe you lost your job and are looking to replace your income, or you want to supplement earnings from your day job. In either case, you're in luck; there are dozens of ways to make money on your own that don't require a traditional employer.
Losing a job or making ends meet aren't the only reasons why you may want to figure out how to make a living without a job. Below are some other possible reasons why you may want to earn extra money:
To create a passive stream of income
So you can make money doing something you already do
To monetize your free time
To stay at home
Regardless of your reason, our guide provides you with nine concrete and actionable opportunities to solve your problem.
Real Ways to Make Money Without A Job
Are you looking for options to make money on your own? Below are nine real ways to make money without a job and supplement your income.
1. Deliver Meals with Postmates or DoorDash
Delivering meals isn't just for college students. It's an excellent side hustle for someone looking to earn a wage and tips. Do you have a car, bike, or scooter and valid car insurance?
DoorDash or Postmates may be the solution for you. Postmates and DoorDash are both apps that allow drivers to deliver meals to customers. In return, they pay drivers a minimum delivery fee, plus tips.
You can sign up for both delivery apps if you want to increase earning potential. However, regardless of which one you sign up with, you can't start driving until you're approved.
You must meet their respective qualifications, but if you do, your approval to drive should take only a few business days. Upon approval, you set your own hours and start making deliveries right away.
With each option, it's possible to make upwards of $20 an hour. There are some cons to consider, like wear and tear on your car, and not receiving tips from some customers, but overall, this is a terrific way to make money without a job.
Check out our guide on the best delivery app gigs to learn more about each platform and its qualifications.
2. Rent A Room Through Airbnb
Do you have a spare bedroom or even a pullout couch in your home? You can list it on Airbnb and make money without working.
While there are some places that are more popular than others (think big cities, high tourist areas, etc), you can still make good money. In fact, the average person makes at least $400 per month listing a property on Airbnb. And, it's free to list your property on Airbnb.
If you really want to make a lot of money with Airbnb, being a great host goes a long way to secure more bookings.
Being a great host isn't difficult, it's about offering excellent customer service, a few amenities, and making sure your guests are happy with their stay.
The greatest part about becoming an Airbnb host is that for the most part, the money you make is passive income. Airbnb handles the booking requests, the pay, and more, so you really only have to make sure that your guests are comfortable during their stay and that you clean up afterward (or pay someone to clean up).
Check out our Airbnb host checklist guide to learn more about this opportunity.
3. Take Surveys on Survey Junkie
You won't become rich with surveys. However, they're still worth mentioning. Why are surveys an awesome way to make money without a job? Because you can do them in your free time, and they don't require a lot of effort.
Survey Junkie is an excellent option, and is one of the best paid survey sites on the web. Not only do they pay in cash, but you can also take their surveys on the go, while relaxing with your family, or at any time during the day when you have a few minutes to spare.
Most surveys on the Survey Junkie platform pay $1 – $3, and you can redeem earnings once you reach $10. If you don't want cash, you can redeem earnings for free gift cards.
To begin with Survey Junkie, all you have to do is sign up. This usually takes less than ten minutes, and you can start earning money as soon as you confirm your email.
Check out our Survey Junkie review to learn more about the platform.
4. Teach English Online with EF Education First
Are you a teacher or do you have a bachelor's degree? If so, you can teach English to students online and earn up to $20 an hour.
EF Education First is an online teaching platform that teaches students in China how to speak English. Each class taught by a teacher is 25 minutes long, and many teachers repeat classes with the same students.
This means reliable income for the teacher and consistent instruction for the student.
The minimum starting pay is $13 an hour. Based on qualifications and bonuses, you could earn up to $20 an hour, even as a newer teacher. You will be an independent contractor if located in the U.S., so keep that in mind.
That means you'll have to pay your own taxes out of the money you make teaching. All money earned goes directly to your bank account, and you can choose when you get paid.
You can also choose your own schedule, and you won't need any other materials as they are all provided for you.
Check out our review of the top options to teach English online from home to learn more about this opportunity and qualifications.
5. Earn Money Shopping with Ibotta
Yes, you can make money while shopping, both for groceries and online. Not for the act of shopping; rather by earning money on items you're already buying.
Ibotta is an excellent option to earn money on items you buy at the store and online. Regardless if you don't have a job or not, you need to eat and buy things like personal care items. Why not earn money while you're at it?
The Ibotta app and platform work at over 300 retailers, including:
Amazon
Costco
Sam's Club
Target
Walmart
Again, you can also use Ibotta at most grocery stores to get money back on your shopping. The app gives you $10 to sign up and you can redeem earnings once you reach $20, giving you the possibility to make money in a day with little effort.
Check out our review of Ibotta to learn more about how the platform works.
6. Invest in Real Estate with Fundrise
Do you want to invest in real estate but don't want to be a landlord? Or, do you want to diversify your portfolio outside of the stock market? If so, real estate crowdfunding is a perfect option to make money without a job and create passive income.
Fundrise is one of the top platforms to consider for investing in real estate. The platform is a low-cost way to invest in properties without requiring a significant cash outlay.
Fundrise offers three ways to start investing and earning money. You can choose their dividend income portfolio, long-term growth portfolio, or one that provides a mix of the two.
If you want to make money without a job, choosing the passive income option will be the best choice for you.
You only need $500 to open an account with Fundrise. While earnings are taxable, Fundrise also allows you to invest within self-directed IRAs to shelter income from taxes.
Read our review of the best real estate crowdfunding sites to learn more about Fundrise, and other alternatives.
7. Become a Proofreader through Proofread Anywhere
Do you find yourself catching grammatical errors when reading blog posts, books, or magazines? You may be able to turn that gift into a business or a lucrative side hustle and make money from home.
Proofread Anywhere is a suitable resource to help launch a proofreading business if you don't know where to start.
In the free course, Caitlin Pyle, the founder of the course, shares the tools you need to launch a business and find clients.
Make Extra Money by Taking Short Surveys
Taking short surveys in your free time can be an awesome way to earn extra money fast! The instant you finish a survey,
Survey Junkie pays you in cash via PayPal
. 6 Million users and an 8.9/10 Trust Pilot rating prove you can trust them.
Again, this is great as a side hustle. But it's also an excellent way to build a full-fledged business and make money without a job, all while working from home.
8. Make Money Online with Swagbucks
Do you spend a lot of time online? You can monetize that time and make money for your efforts.
One of the top options to do this is Swagbucks. The Swagbucks platform pays you to perform various tasks online, including:
Taking surveys
Using their online shopping portal
Using their search engine
Watching sponsored videos
Playing games online
For each completed task you earn "SB" points. You can redeem these points for cash or free gift cards. Swagbucks allows users as young as 13, so this is a legitimate way for children and adults alike to make money.
Swagbucks pays users $5 when they open an account, and you can redeem earnings once you reach $10. If you choose gift cards, some stores allow redemptions as low as $3.
Check out our Swagbucks review to learn more about the platform.
9. Walk Dogs with Rover
The final option to make money without working is walking dogs. If you love animals, you could earn money by walking dogs and watching them in your home.
Rover is a website that people use to book services for their dogs while they're away or busy. For example, many people hire a dog walker if they work long hours and know their dog will be alone all day.
Signing up with Rover is easy. All you have to do is fill out the application, submit for a background check (which is $25), and once approved, you can start. You don't really have to do much with Rover besides answering messages and bookings.
The key to growing your Rover side hustle is to secure reviews from your clients. This helps you stand out to prospective clients and receive more business.
You can set up your own pricing, schedule, and animals you care for. So, if you're not a fan of super big dogs, or if you don't want to take care of puppies, that's your prerogative.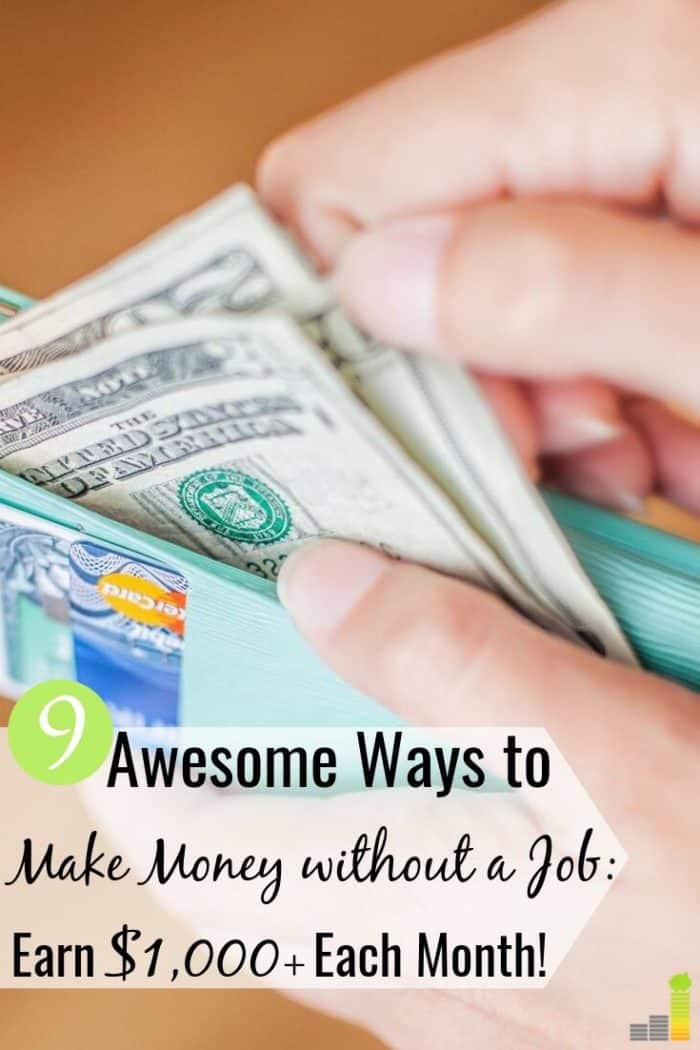 How to Make Money Without Working: Bottom Line
With apps and the internet, it's easier than ever to make money without a job. While you may not become wealthy with all of the options, they do offer opportunities to earn cash.
Regardless if you need income to make ends meet or want to create another stream of income, don't overlook the opportunity to make money on your own. You never know how the choice will pay off in the long-term.
What are some other ways to make money without a job you've pursued? What do you look for in an income opportunity? How many streams of income do you have?
The post 9 Legit Ways to Make Money Without a Job appeared first on Frugal Rules.
Source: Frugal Rules