The cost of getting a haircut these days is skyrocketing. The average haircut for a man costs $28, and for a woman, it's $44. If you live in a large city or want something beyond a basic cut, you'll typically pay more. If you've found yourself wondering, "Where can I find cheap haircuts near me?" but not known where to look, I feel your pain.
At current prices, the costs can really add up. At one point, my family was paying over $70 per month for haircuts for my son and husband. That's a lot of money, especially if you're on a tight budget.
If you're tired of wasting your hard-earned cash, you're in luck. Our guide will show you several of the absolute best places to get a cheap haircut near you.
Best Way to Save Money on Haircuts
Before I cover cheap barber shops near you, it's important to share an excellent way to save money on hair care needs – Groupon and LivingSocial.
You can find deals on just about anything on either site. In fact, both sites have a "Beauty and Spa section" where you can locate deals on local salons.
If you don't mind regularly going to a new barber this is a legitimate option to save money. Just make sure to read the terms and conditions of the deal when the deal expires. Many deals allow you to save 50 – 60 percent on a haircut.
The discount sites aren't the only option to save money on haircuts. There are other sites like Groupon that offer similar savings.
Don't want to use a discount site to locate a discount barber? You can use the internet to find a cheap barber shop near you. Fire up your favorite search engine and use any of the following terms to locate a salon:
Cheap barber shop near me
Cheap hair salons near me
Walk-in haircuts near me
Cheap women's haircuts near me
Male haircuts near me
Cheap kids' haircuts near me
Low-cost haircuts near me
Either approach provides an effective way to save money on haircuts. And, discount sites may reveal other ways to save money each month.
Best Places to Get Cheap Haircuts Near Me
Are you spending too much money on haircuts for your family? There are multiple ways to cut costs. Below are the seven best places to get cheap haircuts near me to keep more money in your budget.
1. Cosmetology or Beauty Schools
Local cosmetology and beauty schools are an excellent choice to get a haircut for a discount. Students at beauty schools use the opportunity to practice their skills and gain experience.
Students work under the supervision of highly-experienced instructors to ensure everything goes well. Depending on what you need, you may be able to walk in or you could call ahead for an appointment and to get prices.
Prices are local cosmetology schools are often significantly cheaper than a salon or barbershop. Be sure to communicate clearly with the student to tell them what you'd like done or bring in a picture.
Remember, they wouldn't be out on the service floor doing hair if they didn't have the necessary hours and basic training under their belt so you will likely be pleasantly surprised by the end result.
2. Discount Franchises
Discount haircut franchises offer another way to save money on haircuts. It's unreasonable to expect they can offer expansive services, but they're a legitimate choice to save money on your hair needs.
Below are a few of the more well-known discount haircut franchises:
Like at a beauty school, clearly communicate what you want so the stylist knows what you expect. If you only need a simple haircut, this is a terrific way to save money.
3. Work From Home Stylist
I go to a work-from-home stylist for my hair and I love it. Some may say that stylists who work from home aren't professional, but this is often not true.
Some stylists prefer to work from home because it's more flexible. Or, they would rather not pay fees to rent out a chair when they have plenty of their own clientele.
Finding a work-from-home stylist to cut your hair may save you quite a bit of money too. Ask friends and family for referrals or check out local Facebook groups for recommendations.
You can also ask for pictures of their work or references as well. If you don't mind not having the salon or barbershop experience, this could be a great alternative.
4. Barber Shops
Search 'cheap barber shop near me' and you'll end up with several options, especially in a larger city. Most people who cut hair at barber shops have been doing it for a long time and are proficient.
They've seen all sorts of hair types and have experience with numerous cuts. Sometimes, a local barber shop can be a last-minute option since it's easy to get service done even if you don't have an appointment.
Some barber shops in my area even offer discount days for haircuts. Other franchise locations allow you to check-in online when you're on your way so you can save your spot.
As I mentioned earlier, Groupon is a good place to look for discounted hair trimming services.
Just look around the site to see who you like best and who offers the best price. This may even help you find a shop that has extended hours.
Most shops understand that people have to work so they will stay open as late as 8:00 p.m. on a weekend day. Some barbers will come in even later if you make an appointment, or if they have enough clients lined up after hours.
Some barbers may even offer a discount to frequent customers. While you might pay more in the beginning, getting a "regular customer" discount can result in major savings over time.
Plus, you gain the benefit of building a relationship with a barber you can trust to give you a quality cut rather than hopping around chasing the lowest price.
5. Charity Events
Throughout the year, some organizations offer discounted rates on haircuts. Some events focus on those facing financial issues while others are open to the public. You'll typically see free or discounted haircuts featured at local back-to-school events for example.
My family and I have attended a few of these events and there were tons of freebies including back-to-school haircuts for kids.
Saving Money is Easy With Trim
Do you feel like you pay too much for your cable bill or gym membership? Let Trim save you money on the memberships and subscriptions you don't use.
The average Trim user saves $30 per bill with this handy little app!
Trim can negotiate lower prices for you with Comcast, Time Warner and more. Try Trim today!   
Hair Cuttery has been offering free haircuts through a charity event since 1999. Most of the over 900 salons across the nation participate in The Share-A-Haircut event.
Hair Cuttery usually picks a few days of the year when they offer free haircut certificates per one haircut purchased, according to their site.
They have run different campaigns over the years. In 2018, Hair Cuttery teamed up with the National Network to End Domestic Violence, and the goal was to raise awareness about domestic violence.
They provided haircuts to survivors of domestic violence through a network of local programs and state coalitions. Between 2014-2018, the two teamed up to donate nearly 250,000 haircuts valued around $5.27 million.
Sometimes Hair Cuttery will focus on the homeless giving out thousands of free haircut certificates to those in need.
6. Mom and Pop Independent Stores
As with many other industries, there is the option to use a lesser-known business to work with. Popular barbers like Sports Clips and Great Clips are well-known all over the country.
They have nice perks like online check-in, but sometimes their prices are not as competitive. Lesser-known mom and pop shops can be just as good for quality and cheap haircuts. Most shops you'll see have been around for years.
From personal experience, comparing the turnover from the franchises and the mom and pop shops, you'll see more new faces at the big-name businesses.
That could be a combination of a few things including:
Rental space fee
Lack of clients
Limited hours
This is including barbers other than just the owners of the mom and pop stores. Keep going to the same small barber shop and maybe they'll start giving you a discount on your fresh new haircut.
7. Cut Your Own Hair
One of the top ways to get a cheap haircut is by cutting your own hair. I have a neighbor that cuts her whole family's hair which includes all four kids and her husband.
That can result in some huge savings picking up that skill. She's a stay-at-home mom but got a part-time gig cutting hair at a local barber shop so she earns extra money with this skill as well.
Even if you have no idea where to start, do some research and watch YouTube videos. You can practice until you feel comfortable cutting your hair or someone you know.
An affordable pair of Wahl clippers goes a long way towards saving money over the long-term. Think of how much money you can save by writing the cost of haircuts out of your monthly budget.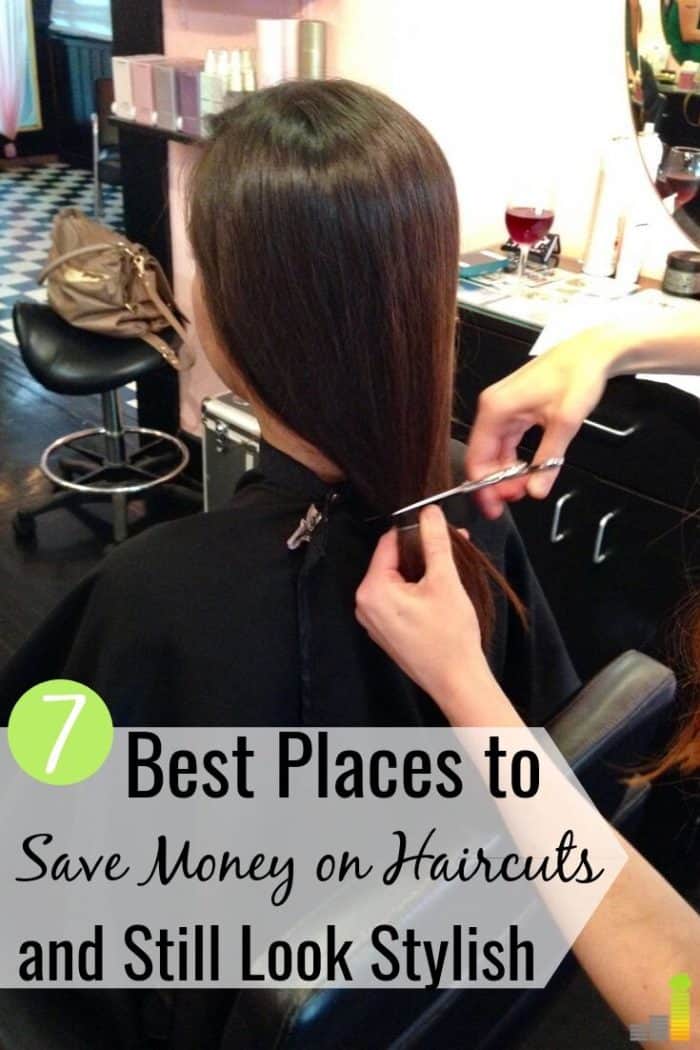 Cheap Barber Shop Near Me: Bottom Line
Getting a good haircut is expensive, especially if you have a larger family. Depending on how often you need a fresh cut, it can get costly, but there are a few options to help get the best cheap haircuts near you.
Some are more seasonal options, so you have to keep looking out for opportunities. Otherwise, consider comparing options in your area from big-name barbershops and beauty schools, to small-town shops and even exploring the option of cutting your own hair.
How do you save money on haircuts? What do you do to find cheap haircuts near you? How much money do you spend on a haircut?
The post 7 Best Places to Get Cheap Haircuts Near Me appeared first on Frugal Rules.
Source: Frugal Rules