Life has been crazy the past few weeks. With all my favorite fall shows starting up again, I've not been able to watch them when they air. Last season, I'd have to wait a day or more to watch them on network websites. Not this fall. The Amazon Fire TV Recast lets me record my favorite shows and watch them when I have time.
I think that's what makes this over-the-air digital video recorder (OTA DVR) a game-changer. You don't need cable anymore to watch shows when you want to.
We're all busy. The ability to record shows and watch them later is convenient. A DVR enables that ability. Cable used to be the only way to get a DVR. Then, standalone DVRs like TiVo, and now Fire TV Recast came along.
When paired with a digital antenna like the Mohu Leaf, you no longer need cable to record your favorite shows and watch them later.
In this Amazon Fire TV Recast review, we'll cover what makes this Amazon OTA DVR worth the investment.
What is the Amazon Fire TV Recast?
As mentioned, the Fire TV Recast is Amazon's DVR. Some people call it an OTA DVR, which just means that it can record shows and movies that are broadcast "over the air."
Basically, the Fire TV Recast is a box that lets you record shows and watch them later.
You plug it into your TV and can magically record anything you get with a TV antenna. No subscriptions or payments are required.
Major networks like ABC, CBS, FOX, NBC, PBS, and others broadcast content for free all day, every day. Now that all TV content is digital, you need a digital antenna to watch network content on your TV.
The Amazon Fire TV Recast comes in two options:
75-Hour Model (Two Tuners, 500 GB Drive)
150-Hour Model (Four Tuners, 1TB Drive)
Which one you buy really comes down to how much content you want to record and store. If you see yourself recording a lot of content, spending the extra money for double the recording capacity may be worthwhile.
There is one important catch that many people misunderstand. You CANNOT record streaming content with a Fire TV Recast.
For example, you can't subscribe to HBO for a week, record every episode of Game of Thrones, then cancel your subscription and re-watch episodes endlessly on your Fire TV Recast.
Over-the-air content is the only type that can be recorded on a Fire TV Recast .
Think of it this way – if you have to pay for it, you can't record it on a Fire TV Recast. If networks broadcast it for free, you can.
You might be tempted to think, "What's the point of buying an Amazon Fire TV Recast? Aren't I just spending a bunch of money for nothing?"
Are you a football fan? I am and every Sunday, FOX, and NBC broadcast games. A Fire TV Recast lets me record those games and watch them later, when it's convenient for me.
Some of my favorite dramas air on weekday evenings. I'm often out running my kids to music lessons or attending events. I'm rarely sitting down on my couch when my shows start to watch them.
The Fire TV Recast lets me watch This is Us, Superstore, Blacklist, and other shows I enjoy when I'm able. That's the value of an Amazon OTA DVR.
Amazon Fire TV Recast Review
We'll dive into the details below. If you don't have time for that, here's our quick take.
Do you already have an Amazon Fire TV stick?
Do you watch a lot of college football or NFL games?
Are some of your favorite shows on ABC, CBS, FOX, NBC, PBS or The CW?
Are you too busy to watch your favorite shows when they air?
If you answered yes to these questions, the Amazon Fire TV Recast is a good fit for you. It integrates seamlessly with the Fire TV Stick that you're already comfortable using, and it will let you record games and shows without a monthly subscription fee.
The Fire TV Recast is incredibly easy to set up and start using. While it comes with a bit of a hefty upfront cost, after purchase there are no additional fees or subscription costs. Over time, it will pay for itself, especially if you currently have cable.
Bottom line: if a DVR is keeping you in your expensive cable contract, cut the cord and buy a Fire TV Recast. You'll likely make your money back in six months or less.
What Comes with the Device?
Three things come with the Fire TV Recast. The Fire TV Recast (black box). A power adapter, and a Quick Start Guide. That's it.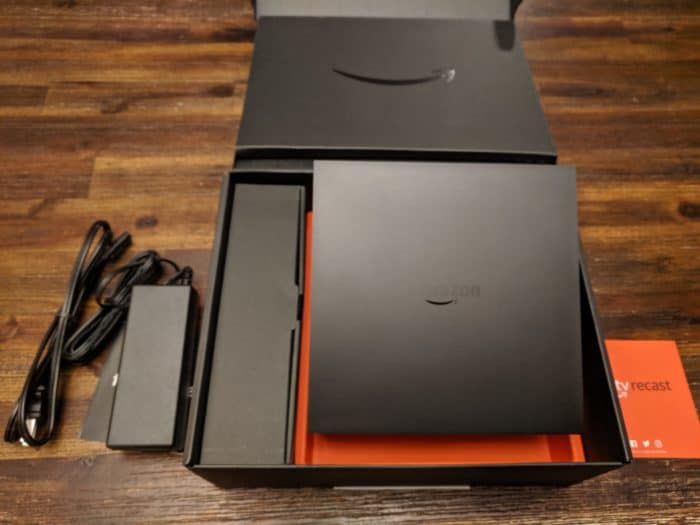 Setup
Setting up the Fire TV Recast is pretty simple. Here's what you need to start recording content on your Fire TV Recast:
A digital antenna (we recommend the Mohu Leaf)
Wireless internet (Wi-Fi)
Fire TV Stick or Echo Show
An iOS, Android, or Kindle device with the free Fire TV app installed
The hard drive where your content is recorded and stored is inside the box, so physical setup is pretty easy. Fire TV Recast connects directly to your digital antenna.
The included Quick Start Guide walks you through the process. Still, here's what you can expect.
First, connect the Fire TV Recast to your digital antenna and plug it in to the wall.
Next, open the Fire TV app on your smartphone or tablet. Make sure you are signed into the same Amazon account that you used to buy the Fire TV Recast and that is connected to your Fire TV Stick or Echo Show.
Follow the prompts in the app. It will connect to your Wi-Fi network and test your antenna strength and may tell you to move your antenna a bit.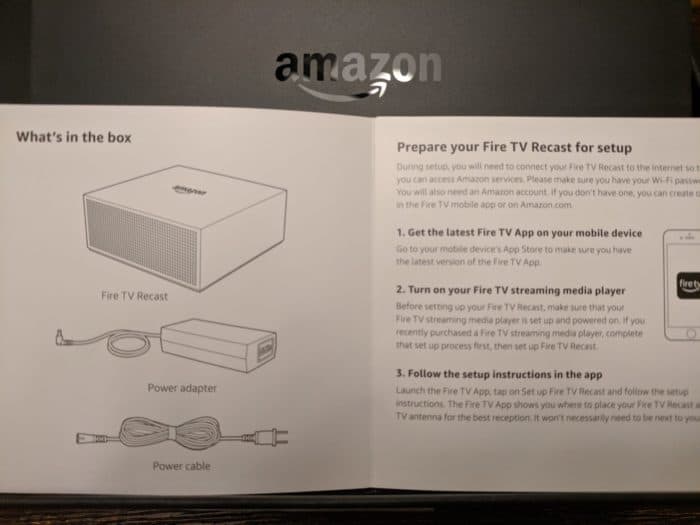 Finally, turn on your TV and click on the Fire TV app.
If you've been using a Fire TV stick already (like me), you'll notice a new option called "DVR" along the very top of the Fire TV screen. Clicking on it launches the Fire TV Recast channel guide.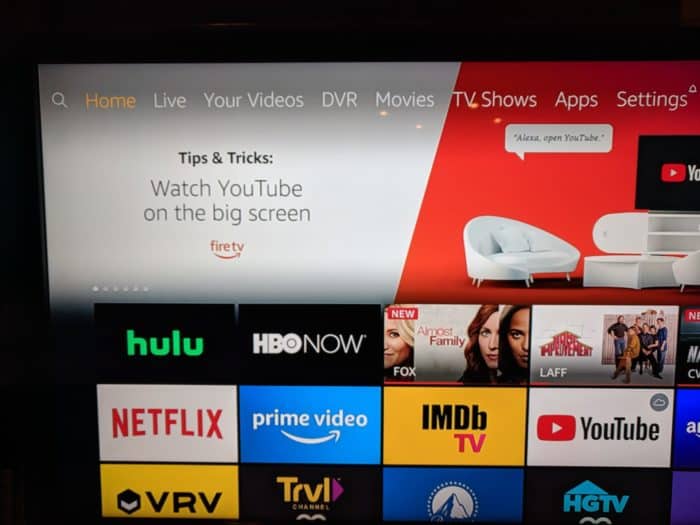 You will also notice "On Now" listing as tiles further down on the screen. They should show a little bar with how much time is left as well.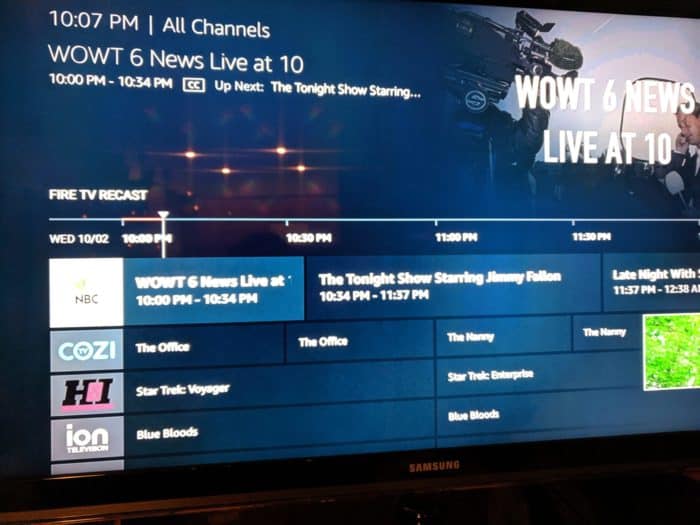 Select something you want to watch from the program guide. As you're watching a program, you can pull up a guide of other programs currently airing. If you like to channel surf, you'll enjoy this feature.
Recording on the Device
Recording on the device is easy. The Fire TV Recast receives content from your digital antenna and sends it to your Fire TV device over Wi-Fi. Inside the Fire TV Recast box is a hard drive that records and stores the content you tell it to.
If you've used a DVR before, you'll notice that you can record one show at a time or set the Fire TV Recast to record every show in a series. This Amazon DVR box lets you pause programs while you're watching them, fast forward, and rewind.
You can also automatically extend recording times for football games and other sporting events that tend to run beyond their scheduled viewing windows.
Amazon OTA DVR Supported Devices
One of the drawbacks of the Fire TV Recast is that it only works with Amazon products. While it's great that you can use Alexa to open the Fire TV Recast and start viewing and recording content, it won't work with a Roku, DVD player, or game system PlayStation.
It also won't stream your content to a laptop. This is a feature that Amazon would be wise to implement going forward.
Still, if you have an "Amazon" home, meaning you already have an Echo or Alexa, Kindle table or Fire tablet, and a Fire TV Stick, you'll find the Fire TV Recast convenient.
It connects seamlessly with Fire TV, Echo Show, iOS, Android, and Fire tablets.
Two-Tuner vs. Four-Tuner
As mentioned earlier, the Fire TV Recast comes in two versions (two-tuner and four-tuner). The two-tuner model lets you record 75 hours of content and comes with a 500 GB hard drive.
The four-tuner version lets you record 150 hours of content and includes a 1TB hard drive.
There are a few other differences as well. Two tuners lets you record up to two shows at once. Four tuners doubles that, allowing you to record up to four shows at the same time.
Both versions let you watch live or recorded programs on two devices simultaneously.
Fire TV Recast Channels
Fire TV Recast channels vary depending on where you live. Some cities have a lot more free, over-the-air channels than others. In Omaha, for example, there around 20. In Denver, there's three times as many.
Still, you can expect to get the following channels on the Fire TV Recast:
ABC
CBS
FOX
NBC
PBS
The CW
You'll also get whatever other local channels are broadcast in your area. That could easily multiply your selection up to several dozen channels. In large cities, such as Los Angeles, you could receive over 100 channels.
If you have an Fire Stick, check out our guide on the Amazon Fire TV Stick channels to see the available channels and apps.
Pros
There's a lot to like about the Fire TV Recast. Here's what we like about this Amazon Fire TV DVR:
Great tuner quality. If an OTA show is broadcast in your area, the Fire TV Recast will pick it up.
Recording capacity. Seventy-five or 150 hours of content is a lot. I feel like we'll never run out of room.
Easy to setup and use. It took us only five minutes to unbox the Fire TV Recast, set it up and start using it.
Alexa–ready. Being able to use voice commands to open the channel guide and find something to watch is nice. We like being able to prepare dinner in the kitchen and holler out to Alexa to bring up the local news. Pretty nice.
Pause, fast-forward, and rewind functionality. After not having these features since cutting the cord on our expensive cable contract, it's nice to be able to pause, fast-forward and rewind TV again.
Channel surfing. Other devices can take five to seven seconds to switch between channels. It takes about four or five to change channels in Fire TV Recast. It might seem small, but that speed makes a difference.
Finally, it's worth mentioning that recording is a breeze with the Fire TV Recast. As mentioned above, it's easy to record a single show or an entire series, and it's pretty simple to extend the recording time of any event or show.
Cons
Not everything about the Amazon Fire TV Recast is a plus. Here's what we didn't like:
Channel guide. Honestly, Amazon can do better here. There are no channel numbers and channels from other apps like PlutoTV can get automatically pulled in, which makes it confusing to find your local channels and select them.
Non-compatibility. We get Amazon wanting to keep its products "all in the family," but requiring a Fire TV Stick or Fire TV makes it hard for cord cutters without those products. Amazon can turn this around by making it possible to stream Fire TV Recast content on laptops. This would add in flexibility it currently lacks.
One final thing to mention is the cost. The Fire TV Recast is an investment. We're putting it in the con column since this price can rise if you don't already have a Fire TV Stick.
Still, other alternatives are comparable in cost, so the price ultimately doesn't need to be a reason not to purchase the Fire TV Recast.
Alternatives to Fire TV Recast
The Amazon Fire TV Recast isn't the only OTA DVR in the game. There are at least four other systems worth mentioning.
Tablo OTA – If you don't need to record four shows at once, may appreciate the Tablo. It runs a bit less expensive than the Fire TV Recast. However, it requires a subscription fee and you have to purchase a hard drive separately.
If you already have an Xbox or PlayStation, you can get around this cost. Otherwise, it could end up being more expensive than the Fire TV Recast.
Tivo Bolt – Tivo has long been in the DVR market, so it's channel guide and functionality are hard to beat. If you only need to record content on one TV, it's worth looking at.
It's comparable in cost to the Fire TV Recast and supports an abundance of streaming apps.
Tivo Roamio – This DVR option is somewhat of the legacy version of the Tivo Bolt. A bit clunky, it looks a little old and still works with just one TV. It also does not support storage on an external hard drive.
Pricewise, it's nearly twice as expensive as the Fire TV Recast. While you can skip ads, other options are less expensive.
AirTV – The big plus of this device is that it lets you watch OTA content on any TV in your house, as well as on tablets and phones outside your home. It's easy to setup and integrates with SlingTV.
It's also less expensive than the Fire TV Recast. However, without an internal hard drive, you'll be hard pressed to get the most value from it unless you are a SlingTV subscriber.
Amazon Fire TV DVR: Bottom Line
The Fire TV Recast is a great choice for cord cutters. If you already have a Fire TV Stick or Fire TV, and a digital antenna, it's an affordable way to record your favorite OTA shows and watch them later.
With all its resources, Amazon is likely to improve the channel guide and compatibility going forward.
If you're looking for a slick, easy to use DVR to record shows on ABC, CBS, FOX, NBC, and more, the Fire TV Recast could be a great option.
Is DVR keeping you in an expensive cable contract? What would it take for you to cut the cord? Do you have other DVRs, such as Tivo? Have you tried the Fire TV Recast? What do you like? What did we miss?
The post Amazon Fire TV Recast Review: Never Miss a Show Again! appeared first on Frugal Rules.
Source: Frugal Rules