If you feel like packing up and driving to the store feels like a hassle, I'm with you. Shopping online allows you to get virtually anything you need delivered to your door while avoiding the crowds. It's super convenient, but it gets even better: you can actually get paid to shop online.
You won't get rich quick with cash back shopping apps, but they represent an awesome way to save money by getting cash back on items you already plan to buy.
You may ask yourself "how can I get paid to shop for free?" and believe it's not a legitimate opportunity, but you'd be wrong. The way it works is that cash back shopping sites earn a commission for the traffic they send to retailers. After making a purchase, the site passes a portion of that savings to you.
This is an awesome way to earn money back on your holiday shopping and regular shopping alike. The best part is some sites allow you to use coupon codes to stack your savings!
Top Ways to Get Paid to Shop Online
If you're ready to dive into the world of paid shopping, read on. Below are the nine best ways to get paid to shop online.
1. Swagbucks
While Swagbucks is known as a popular survey site, they also offer the opportunity to earn cash back by shopping online.
The Swagbucks platform is free to use and simple to sign up. The process takes less than five minutes, and you can start earning money, or "SB" points right away. You can use Swagbucks at over 1,500 retailers online to earn cash back.
To get paid to shop online through Swagbucks, there are a few things you'll need to do.
Have a list. Of course, if you're just shopping to shop, you won't get anything out of it. However, if you know what you need to buy, you'll be able to receive cash back on the items you already needed.
Remember to use the extension. For you to receive credit, you need to install the Swagbucks extension in your browser.
Keep an eye on payments. It can take up to 60 days to see your account accredited. So, keep an eye on it, and don't be afraid to check back in if you don't see your points by the end of the 60 days.
You can read our review of Swagbucks to learn how to maximize earnings on the platform.
2. Ibotta
Like with Swagbucks, Ibotta gives you money back on the items you already buy and purchases you make regularly.
Ibotta allows you to earn cash back on grocery and retail purchases. While you can use the app in-store, you can also use it while shopping online.
Ibotta works with over 350 retailers, so you don't have to worry about not being able to find your favorite stores.
This makes the service one of the best get paid to shop apps as it provides many ways to earn cash.
When shopping online, you'll have to make sure to use the shopping portal that Ibotta provides so you can guarantee that you get credit for your purchases.
Ibotta has a low payment threshold of $20, and you can accept a gift card or payment via PayPal. This is a great way to earn money back on the items that you were going to buy anyways, and $20 is easy to reach.
Ibotta gives you $10 to start, making it easy to reach your first $20.
You can read our review of Ibotta to learn more about how the service works.
3. Shopkick
Shopkick is an excellent app that earns you points that you can redeem, just by shopping. And sometimes, you don't even have to pay anything to receive points.
As with most online apps and websites, sign up is free and easy. Shopkick works a little differently than other apps. For example, you don't just earn cash back on purchases. You can earn points, or "kicks" in multiple ways, including:
Watching sponsored videos
Linking loyalty cards to the app
Scanning barcodes and receipts
While getting paid to shop online is good, having other ways to earn money is great too.
Shopkick has a payment threshold of $5, and you can redeem your earnings via PayPal, or you can choose from their free gift card options.
The app is available on both Android and iOS platforms, so make sure you download the correct version.
4. Rakuten
Formerly known as Ebates, Rakuten is another platform that gives you cash back and lets you get paid to shop online for free. And not only do you get cash back, but you can also use the platforms coupon codes and save more.
Signing up for an account is free and only asks a few quick questions. Once approved, you can start earning cash back immediately.
Rakuten works with all of the major brands and retailers, and you'll often find that they have great cash back deals that are higher than other websites and apps.
For example, some retailers offer up to 15 percent cash back, which is a huge discount when combined with sales and coupons.
The only con that you may find with Rakuten is that they only pay quarterly, and your check is based on the cash back you received the 90 days before payment.
So, if you don't spend much in a quarter, you won't receive much back. Additionally, if you spend quite a bit of money (say, online shopping for the holidays) you could end up waiting a month or two just to get your cash back.
Check out our review of Rakuten to learn how to maximize earnings from the platform.
5. MyPoints
MyPoints works similar to Rakuten, offering you cash back from retailers and your favorite stores. The website works with over 2,000 retailers, so it's unlikely that you won't be able to find your favorite shop.
Not only do you receive up to 40 percent off at partner retailers by shopping with MyPoints, but you can also take advantage of promos and deals. This allows you to stack savings and increase savings.
Make Extra Money by Taking Short Surveys
Taking short surveys in your free time can be an awesome way to earn extra money fast! The instant you finish a survey,
Survey Junkie pays you in cash via PayPal
. 6 Million users and an 8.9/10 Trust Pilot rating prove you can trust them.
MyPoints is currently offering a $10 Amazon or Visa gift card for signing up and spending $20 within 30 days. Sign up is completely free, and just requires an email, name, and password.
6. ThredUp
Do you like to buy or sell clothes online? ThredUp is one of the best cash back shopping apps to use to save money on your clothing needs. You get paid for the clothes you don't want or need by sending them to ThredUp.
If you have vintage, designer, or even just clean and comfortable clothes that are in fashion, ThredUp wants to take them off your hands in exchange for you getting paid.
ThredUp is all about sustainable and beautiful thrifty clothing, so what better way to support a healthy planet, and get some money back for your clothes, than to send them a box of the stuff you no longer want to wear.
As the old saying goes, "One man's (or woman's) trash is another man's treasure."
When sending clothes to ThredUp, you also have the option of earning a credit, which you can then use to shop for clothes to replenish your closet or using at a later date when you need to purchase clothes again.
7. Drop
With over three million users, Drop is a phone app that you can use to earn rewards for shopping online. This is great to use if you make purchases from your phone more than you do your computer.
While they only have an app available, a Chrome extension is in the works and will be ready soon.
With the app, you earn points for shopping online, but also ordering items through the app, like groceries or take out via Postmates. Travel purchases count as shopping online too, so booking hotels and flights via the Drop app will also earn you points.
To earn points, you must link a credit or debit card to the app through their secure portal. If you have a cash back credit card, you can double-dip on rewards.
Drop doesn't offer cash in hand like some other cashback sites. However, you can redeem your points for gift cards. Once you reach $5 you can redeem points for an e-gift card.
8. CouponCactus
While all of the above sites are great ways to get paid to shop online, CouponCactus offers you even additional savings and cash back. For one, you can use it in conjunction with any website and app. And for two, they give you cash back.
CouponCactus is simple to use. All you have to do is go to the site and select the coupons you want to use. Then, you shop as you normally do. When you check-out at your selected store, you enter the coupon code you received from CouponCactus.
From there, you'll see your discount in your cart, and then you'll pay. You'll receive the savings, and the cash back, just by using CouponCactus.
Signup is free, and if you like them on social media, they'll add $3 to your account right away to get you started. CouponCactus sends out earnings once a quarter, via PayPal or check, as long as you have a $10 balance.
9. FlipGive
FlipGive is one of the more unique get paid to shop apps on our list. Instead of earning cash back for you to receive, you donate earnings to a sports or nonprofit team of your choice. As an alternative to a bake sale or car wash, you and a group of people can fundraise just by shopping online.
It's free to sign up on FlipGive. Once you create an account, you invite people to join your team to maximize rewards. FlipGive then pools all of your rewards, which your team can donate to the sports or nonprofit team of your choice.
To make sure that your team gets the money earned, each team member will need to use a specific link from the group when shopping online.
The FlipGive website states that they make their money from retailers and sponsors, so each team keeps all of the money they earn through shopping online and in-store purchases.
The site also has an average earning calculator that you can use to see how much you'd need to spend to raise the funds you need.
FlipGive also has an app, so you can earn money both online, through your phone, or in-store. They work with hundreds of retailers, restaurants, and even travel agencies.
The one drawback is their high redemption amount of at least $100. While not bad, per se, if you have a small team it may take too long to redeem earnings.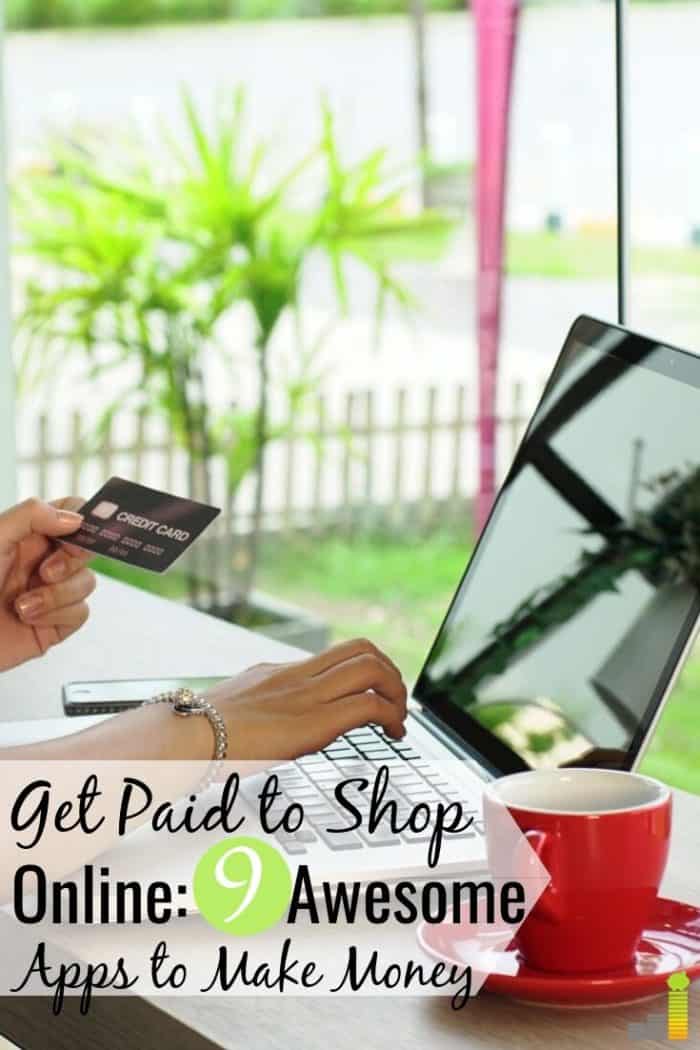 Cash Back Shopping Sites: Bottom Line
It's not that difficult to get paid to shop online. Most people shop online, or on their phones. If you have to buy something anyway, it makes sense to try and recoup some of the cost by using cash back shopping apps and platforms.
Most platforms are free to use, and if you stack discounts it results in more money in your pocket!
What are your favorite cash back shopping sites? How else do you save money on your online shopping? How much of your shopping do you do online?
The post 9 Top Ways to Get Paid to Shop Online appeared first on Frugal Rules.
Source: Frugal Rules