Cell phones are everywhere. We all seem to have them, and they all have one thing in common –  a limited lifespan. It's tempting to toss your old phone when you replace it, but don't! I've got great news for you: you can sell old cell phones for cash to offset the cost of a new phone.
Don't need to replace your device, but have spare phones lying around your house? You can sell used phones for cash to make extra money on the side instead of throwing them out.
If you're interested in selling your phone (or any other spare devices), you're in luck. Our guide shows you the best places that buy old cell phones or other devices and process items within a week.
Best Places to Sell Old Cell Phones for Cash
Do you want to declutter around your house and help the environment? Below are the seven best places to sell old cell phones for cash and accomplish both goals at the same time.
1. BuyBackWorld
BuyBackWorld is our favorite place to sell used cell phones for cash. And that's not all. Like others on our list, they buy numerous used devices, including:
Laptops
Tablets
Apple Watches
Cameras
Unwanted gift cards
Thanks to the breadth of devices they purchase, they're one of the best places to sell old electronics for cash. With BuyBackWorld, you can sell them your old phone, no matter what it is.
Since they accept Apple and Android phones, you can get rid of the device quickly. This is an excellent choice if your phone isn't newer or if you have a phone that's slightly less than perfect.
To sell old cell phones on BuyBackWorld, all you have to do is answer a few questions about the condition of the phone and type of phone you have. Then, BuyBackWorld provides you a quote based on the answers you give.
If you accept the offer, they'll send you a prepaid shipping label. From there, you'll package up the device and mail it. You can keep track of your shipment and payment status on BuyBackWorld's website.
Once they receive the device, you'll be able to accept payment via PayPal or check.
2. BuyBackBoss
BuyBackBoss is one of the few places on our list that only buys cell phones and nothing else. Looking to sell your old iPhone, Google Pixel, or Samsung phone? This is the perfect website for you.
Like BuyBackWorld, you need to answer a few questions on the condition, storage, and carrier for your phone. After that, BuyBackBoss will give you an instant quote.
They'll provide you with a prepaid shipping label, and then you'll ship off your phone.
The great thing about BuyBackBoss is that you'll receive payment as soon as they receive your phone, through your choice of PayPal or check.
The site guarantees the highest payout in the space. Still, it never hurts to compare multiple vendors before selling a device.
3. Gazelle
Gazelle, like other sites, allows you to receive an instant quote on your phone and sell it quickly and easily. The site is a little pickier than some of the others and will offer you a low payment option if your phone isn't in top quality condition.
Keep that in mind if you have an older phone or a few extra scratches.
Similar to other sites, you fill out a quick questionnaire about your phone, and then you'll receive a quote. If you accept it, they send a free shipping label and ship your item to Gazelle.
If they approve of the condition you filled out in your original questionnaire, they'll send you your payment.
Gazelle buys more than used cell phones. They also buy other devices, including:
Blackberry devices
Macbooks
Mac desktops
Tablets
The shipping and inspection process can take a week or two. Once approved, you can accept your payment either via PayPal or by check.
If you're lucky enough, you may even have a Gazelle kiosk near you. If you do, you can turn in your cell phone and receive your payout immediately. However, keep in mind that the pay through the kiosk may be slightly lower than sending in your phone.
4. Swappa
Swappa is one of the more unique places that buy old cell phones for cash. Like Craigslist, with Swappa, you deal directly with other people when you buy or sell electronics.
Along with cell phones, Swappa also allows you to sell:
Laptops
Tablets
Video Games
Watches
Cameras
Home Tech
To sell old cell phones, all you have to do is create a profile, add the phone, and write a description. Then you'll set a price and wait for a buyer. It is free to list all of your electronics with Swappa, including your cell phone. So, there is no risk to you.
Like with eBay and other online retailers, the transaction is complete when you receive payment. And, because they use PayPal, it is safe, secure, and effortless.
Due to the nature of Swappa, you won't be able to sell your cell phone if it's broken. For example, if it doesn't turn on or has any cracks in the glass, Swappa won't allow you to list it, even for parts.
Devices must be 100 percent functional to qualify for their platform. And, you may not receive the quoted price.
5. Decluttr
Decluttr is as straightforward as it sounds – you can rid your house of junk for cash. Not only is Decluttr one of the best places that buy old cell phones, but they also buy other devices.
In addition to used phones you can sell the following to Decluttr:
Tablets
Laptops
Kindles
Gaming consoles
Old CDs, DVDs, and Blu-rays
Blackberry devices
Textbooks
Like with the other websites, you'll start by filling out a form to receive an instant quote on your phone. Then, you'll send in the phone with their prepaid shipping label and receive payment one day after they receive it.
You can choose either check, PayPal, or even direct deposit through Decluttr.
Make Extra Money by Taking Short Surveys
Taking short surveys in your free time can be an awesome way to earn extra money fast! The instant you finish a survey,
Survey Junkie pays you in cash via PayPal
. 6 Million users and an 8.9/10 Trust Pilot rating prove you can trust them.
Not a big fan of dealing with a computer? Decluttr also has one of the best apps to sell your stuff online and follows the same process as using the desktop version. You can fill out the questionnaire, get a quote, and send the phone in.
6. Amazon
You can sell just about anything through the Amazon marketplace. If you want to sell your phone directly and get top dollar for it, you can set up a seller account, create a listing, and wait for the perfect buyer.
While Amazon is an excellent way to sell old cell phones for cash, it works just like any other selling platform. To make sure you actually sell your product, you'll have to put in some extra work.
Taking great photos, using keywords, and a good description will go a long way.
Plus, you'll need to be extremely honest about what you're selling so you don't get a bad rating. For example, if the phone has a small scratch that doesn't look that bad, you should still make a note of it.
You can also take advantage of Amazon's Trade-in program if you don't want to go through the hassle of trying to sell online, or if you don't get any bites from your listing.
Just like with Swappa, you won't be able to sell your phone if it's broken.
7. ecoATM
Have you ever asked yourself, "Where can I sell old phones for cash near me?" and not know where to start? Look no further than ecoATM. The company has over 4,000 kiosks around the U.S. that allow you to receive instant payment for your used cell phone.
The kiosks are typically in high-traffic areas, so you don't have to worry about safety. They have a kiosk locator on their site to find the nearest one near you.
Simply bring the device to the kiosk, get an estimate, drop it in the bin, and receive your cash.
It really is that easy. ecoATM will recycle your cell phone, and you get a quick and easy payday.
How to Sell Old Cell Phones Near You
Of course, you don't have to sell your cell phone online only. You can also start trying to sell your old cell phone locally.
Craigslist is a terrific option to do this, as is Facebook Marketplace. You can consult our guide on sites like Craigslist for other choices to sell your device locally.
Instead of asking yourself where to sell old cell phones for cash, do it locally to save time.
You get to set the meeting date and place, and you won't have to worry about shipping costs or waiting for payment.
Things To Keep In Mind When Selling Old Electronics
Whether you sell your old cell phone online or in person, there are a few safety measures to follow. Before selling the phone, don't forget to:
Back-up all of your info, including photos and data
Completely erase all data from your phone. You may have to do this twice to make sure it's all gone
Factory reset your phone and make sure it resets to before you first used it
These quick steps may seem unnecessary, but they will keep you safe as well as save you the frustration of trying to recover old files.
How often will I need to replace my used cell phone?
This is really a personal preference. There are steps you can take to extend the life of your device, but cell phones usually don't last for several years.
Add that to the fact that over 80 percent of Americans have a smartphone, according to Pew Research, that leads to regular turnover for most. It only makes sense to sell those devices to earn extra cash or offset the cost of a new phone.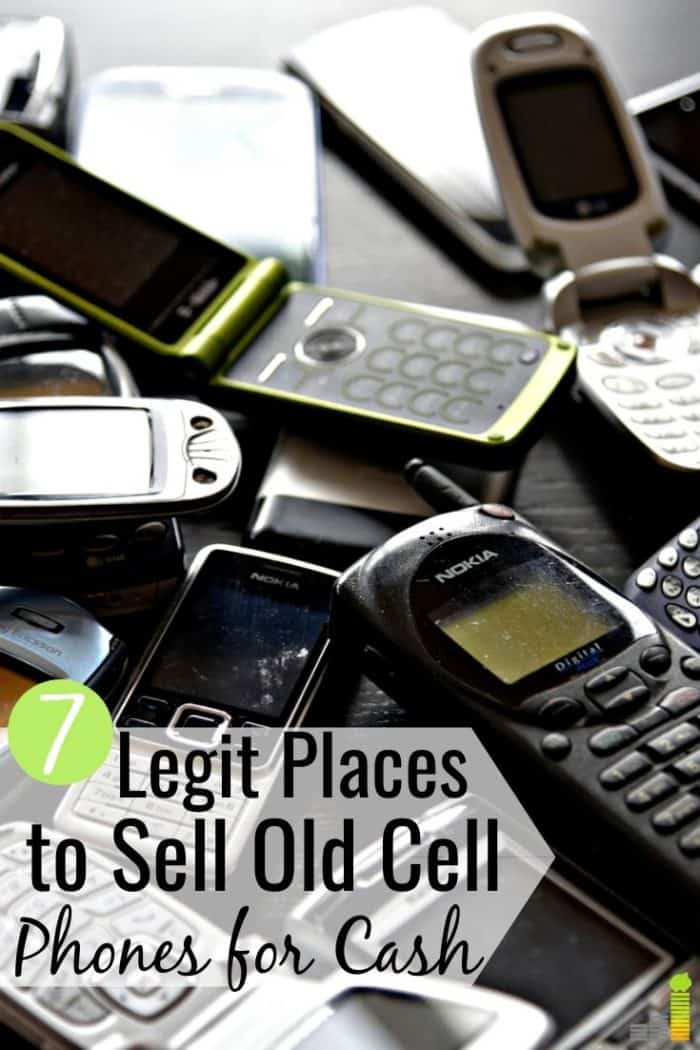 Sell Used Cell Phones For Cash: Summary
As you can see, it's relatively straightforward to sell old cell phones for cash. While some options may make you more money than others, no matter what, you can earn some quick cash with whatever option you choose.
Whether you sell the cell phone locally or online, be safe, and be honest. There are always opportunities to earn extra money, including selling electronics like cell phones that you no longer need.
How many old electronic devices do you have in your home? What do you do with old phones when you replace them? What other options have you used to sell used cell phones for cash?
The post 7 Best Places to Sell Old Cell Phones for Cash appeared first on Frugal Rules.
Source: Frugal Rules