Who doesn't love a delicious, home-cooked meal? But with so many people juggling jobs, families, and busy lives, cooking a healthy meal each night can be extremely difficult. Meal delivery companies like HelloFresh make it simpler to serve a healthy dinner without needing to rely on fast food or boxed meals.
Meal kit delivery services and grocery delivery services are a terrific option for those short on time but who want to eat healthy. While HelloFresh is one of the top meal delivery companies in the space, there are numerous other choices.
If you're interested in giving companies like HelloFresh a try, this guide shares the five best options to have healthy meals delivered to your door.
What is HelloFresh?
HelloFresh is one of the most well-known meal delivery companies in the space. It was one of the first companies to start delivering ready-to-prepare meals to customers.
HelloFresh sends out pre-measured ingredients to make a meal for two to four people in less than 45 minutes. They also include recipe cards, so you know exactly how to make the dishes they send to you and make them in the future if you liked them.
HelloFresh makes it simple to grab your bag of ingredients and get dinner on the table fast. And, you can even have leftovers, so it's incredible for meal prep.
How much does HelloFresh cost?
HelloFresh starts at $8.99 per serving. You can typically receive a discount on your first order that brings each portion to about $6.99. Frugal Rules readers receive $80 off, plus free shipping on their first order.
Pros and Cons of HelloFresh
While HelloFresh is an excellent meal delivery service, there are a few pros and cons to mention.
Pros
Has low-calorie and vegetarian-friendly options
Great for single people, couples, as well as families
You can skip a week if you want or need to
All recipes are under an hour, with most under 30 minutes
Cons
People have said that food portions are slightly smaller than other meal delivery services
Meals can be expensive
Limited options if you're a picky eater
Food Options
So, what kind of food does HelloFresh offer? Besides vegetarian and low-calorie options, you'll receive a wide array of different cuisine types and meats.
As I'm writing this, some of the weekly recipes I've seen include Cheesy Smothered Mushroom Chicken, Plant-Based Beyond Burger™, and Wasabi Zinger Salmon.
Best Companies Like HelloFresh
HelloFresh is not the only meal delivery company in the space. Several of the HelloFresh competitors are worthy of consideration to have ready to make meals to your door.
All of these options have different price points, offer varying menus, and have different portion sizes, so keep that in mind as you're comparing them.
Somewhat related, do you like to have meals delivered to your home? Consider a few of the best food delivery apps that provide a promo on your first order to save money.
Below are several of the top offers currently available:
DoorDash – $7 off an order of $10+
Grubhub – $5 off an order of $10+ when you use the code "AFF5"
Postmates – $100 delivery credit, for your first seven days, when you use the code "GETFOOD"
Below are the five best meal services like HelloFresh to consider.
1. Blue Apron
Blue Apron prides itself on it's fresh, high-quality ingredients. They also let you choose your meals and offer you the chance to prepare chef-created meals in less time.
How much does Blue Apron cost?
Blue Apron starts at $7.49 per serving. Blue Apron is currently offering $60 off your first three boxes to all Frugal Rules readers.
Pros and Cons of Blue Apron
Pros
Portions may be slightly larger than other meal delivery services
You get to choose your meals each week
Has vegetarian and Weight Watchers friendly menus
You can order wine to go with the meals
No commitment and you can skip weeks
Cons
If not ordering for a family, you'll pay $9.99 per serving
They don't separate food by meal like other meal delivery services
Food options are somewhat limited, especially if you're vegetarian
Food Options 
This week's recipes included Spiced Salmon and Garlic Yogurt, Creamy Tomato Pasta, and Crispy Potato and Kale Hash.
Read our review of Blue Apron to learn more about this service.
2. Sun Basket
Sun Basket is the only service on our list of HelloFresh alternatives that offers an all-organic menu plan and food. If your health and the quality of what you consume are non-negotiable, even when busy, this could be a perfect option for you.
They also offer organic, natural, and hormone-free meats, as well as sustainable fish.
How much does Sun Basket cost?
Sun Basket is the most expensive option on this list. Servings start at $10.99 each. Of course, this is because all items are organic, most are fair trade, and meat options are sustainable.
Frugal Rules readers receive up to $35 off their first order. If an organic meal delivery service is vital to you, take advantage of the offer to try them out.
Pros and Cons of Sun Basket
Pros
All-organic options
Multiple recipe choices to choose from each week
Option to upgrade or downgrade your plan at any time
You can skip weeks
Offers different dietary options including Paleo, Mediterranean, Gluten-Free, and Vegetarian
Cons
The most expensive option on this list
Can only choose between two and four people meal plans
Food Options
The weekly recipes listed included Chipotle Turkey Chili, Stuffed Bell Peppers, Quinoa-Tofu bowls, and Miso-ginger Ground Pork.
3. Plated
Plated believes in quality and sustainability. They offer at least 20 different recipes to choose from each week, which is more than any other meal delivery companies like HelloFresh.
Supercharge Your Savings Today!
Start earning more on your savings right now with
CIT Bank
. They pay 1.85% interest on your balance when you commit to depositing at least $100 per month into your savings account via ACH. They charge no fees, and through the end of the year are offering a
bonus of up to $300 on accounts!
Enjoy quick and easy access to your money, which is FDIC insured up to $250K. Start saving today with as little as $100 per month!
They also specialize in meals you can prepare in under an hour.
How much does Plated cost?
Plans start at $9.95 per serving. They do offer 25 percent off your first four weeks for new customers.
Pros and Cons of Plated
Pros
Has multiple recipe choices with over 20 meals to choose from each week
You can swap recipes or skip a week at any time
Has the option for three servings per meal (great if you like leftovers or for a family of three)
Offers seasonal menus
Has dessert options, so great if you have a sweet tooth
Cons
It's more expensive than most other alternatives to HelloFresh
Some comments have mentioned that they didn't receive all of the ingredients for their dishes
Directions may be challenging for someone new to the kitchen
Food Options
Recipes on Plated included Kale Salad, Butternut Squash and Black Bean Tacos, and Harissa Lamb Ragu.
4. Home Chef
Home Chef is an excellent choice for meal delivery if you want to cook all week. They are one of the only meal services like HelloFresh that offers over four days of meals.
They also have good options if you want to get dinner on the table in under 30 minutes.
Home Chef also allows you to order add-ons, extra protein, snacks, and lunches.
How much does Home Chef cost?
Home Chef has a flat rate of $9.95 per serving regardless of order size. This pricing is convenient, whether you're feeding multiple mouths or only yourself because you pay the same amount no matter what.
If you choose their lunch options, those are $6.95 per meal.
Pros and Cons of Home Chef
Pros
Offers more than just dinner. Also offers protein boxes, snacks, smoothies, and more
Great for bigger families since they offer up to six portions per meal
26+ food options each week
Offers student discounts
Cons
More expensive than some of the other HelloFresh alternatives
Not great if you're single
Food Options
Food options for this week included Huli Huli Chicken Rice Bowl, Adobo Chicken Enchiladas, Artichoke and Spinach Salad, and Hawaiian BBQ Pork Tacos.
5. Dinnerly
Dinnerly markets themselves as one of the lowest-cost (but still fresh) meal delivery services. They offer simple and easy meals for even the busiest and least-experienced cooks.
This service is an excellent option to choose if you are new to cooking or meal delivery services, or don't want to spend a lot of money from week to week.
How much does Dinnerly cost?
Dinnerly is the cheapest option on our list of companies like HelloFresh. Their meals start at just $4.99 per serving.
Pros and Cons of Dinnerly
Pros
Affordable and could even be cheaper than eating out
Offers vegetarian options
Uses digital recipe cards, which cuts costs and saves paper
Encourages their consumers to recycle their delivery packaging
Cons
Shipping is not free
Only has options for two people or a family of four
Doesn't have any other options for those on specific diets
Food Options
Weekly options included Creamy Gnocchi Alfredo, Everything Bagel Burger, Sesame Pork Tenderloin, and Nacho Pie.
What to Know About Meal Services Like HelloFresh
Having ready to prepare meals delivered to your day is a terrific way to save time and try new recipes. Many companies like HelloFresh allow you to have a healthy meal and not rely on fast food to get dinner on the table.
There are several other things to know about using a meal delivery service, such as:
It's easy to overspend, so watch cost as you order
Take advantage of promotions to save money
Most services allow you to order online or with an app
Meal delivery services will not replace all of your meals
There is a lot of packaging, so do your best to recycle what you can
Skip weeks if you need to cut costs
Alternatives to HelloFresh and HelloFresh itself are excellent resources to use. Just ensure you stay on top of them so you don't spend too much money.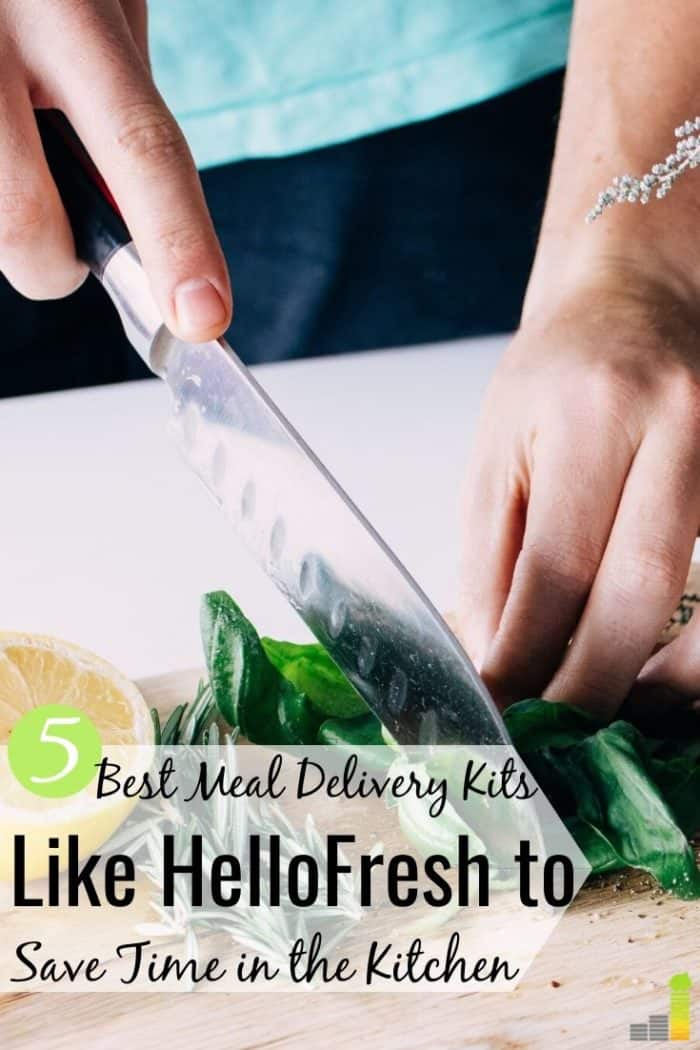 Alternatives to HelloFresh: Bottom Line
All of these meal delivery companies like HelloFresh can offer you tasty, healthy, and quick meals that reduce food waste help you avoid fast food.
While meal delivery may seem expensive, if you plan correctly, there are ways to save money while adding variety to your meals and daily life. Plus, you can save money at least in the first few weeks by choosing a new service and taking advantage of their discount codes.
Each meal delivery service like HelloFresh has its unique pros and cons, but you can always try each one out to see what you like best.
What are your favorite meal delivery services? How much time do you spend each week planning and preparing meals? What's your favorite way to save money on groceries?
The post 5 Best Companies Like HelloFresh for Meal Delivery appeared first on Frugal Rules.
Source: Frugal Rules