If you're like me, life is busy. You have a job and a family and it's a challenge to always make it to the store or put a meal on the table. On-demand delivery gigs provide both a convenient solution to this problem and an excellent opportunity to make money. Delivery jobs like Instacart Shopper let you earn cash while helping those in a time crunch.
The best part of many driver app jobs is you can often work on your schedule. You can work a few hours per week, or work nights and weekends, it's up to you. If you're looking for a legit way to make extra money, our guide shares the best ways to get paid to make deliveries.
What Is Instacart Shopper?
Instacart Shopper is an app that people use to shop for their groceries online and have them delivered. As a shopper, you use the app to view orders, shop for them, and deliver them to users.
You can choose to only shop for groceries, or you can also deliver them. It's your choice, depending on the order requirements and your needs. If you choose to deliver groceries, you can receive tips and boost your income.
Instacart Shopper jobs require you to meet the below requirements.
Full-Service shopper qualifications:
Be at least 18 years old
Have consistent access to a reliable vehicle
Be able to lift at least 30 pounds
Have a valid driver's license and insurance
Have a newer smartphone – iPhone 5.0 or Android 4.4 or later
In-Store shopper qualifications:
Be at least 18 years old or older
Be eligible to work in the United States
Have consistent access to and be able to effectively use a smartphone (iPhone 5 / Android 4.4 or later)
Be able to lift between 30-40 lbs. with or without accommodation
Pay varies as a shopper for Instacart. You can expect to earn in the $15 range, but if you're a fast worker and receive tips, you can make $20 per hour, according to the Instacart site.
Read our guide on how to become an Instacart Shopper to learn more about qualifications and to maximize earnings.
Delivery Jobs Like Instacart Shopper
While Instacart Shopper is a terrific side hustle, there are numerous other apps and companies that you can sign up for, as well. You can sign up for multiple apps and figure out which one you like best, so don't forget that.
You can even use some apps together if you're looking for more full-time work or quite a few extra hours.
Here are the top delivery jobs similar to Instacart Shopper that offer you a chance to earn extra cash.
1. Postmates
Postmates is a terrific on-demand driver app to use if you like flexibility, making it one of the best delivery jobs like Instacart Shopper. Not only can you deliver meals with Postmates, but you can also bring the following:
Alcohol
Clothing
Groceries
Name the type of shopping, and you can likely do it through Postmates, though they do focus on meals and groceries. You can deliver items via car, bike, or scooter with Postmates.
You must meet the following requirements to deliver for Postmates:
Be at least 18 years of age
Have a valid driver's license
An insured vehicle, if you choose to deliver via automobile
You must be able to pass a background check that Postmates runs when you apply
You need a smartphone, either Android or iPhone to receive orders and payment
Postmates pays $0.10 per minute you wait at a restaurant plus $0.60 per mile between pick-up and drop-off locations.
Postmates claims you can earn up to $25 per hour with their service, though reports indicate it's closer to $18 per hour in many cities.
Like other Instacart Shopper alternatives, Postmates pays weekly, usually on a Wednesday or Thursday.
Read our Postmates driver review to learn how to earn money with this on-demand driver app.
2. DoorDash
While DoorDash doesn't deliver groceries, it is an excellent food delivery app. Customers can order from popular restaurants in town, and the DoorDash driver will deliver the meals.
If you sign up to become a DoorDash driver, you can deliver meals via car, scooter, or by bike.
When driving for DoorDash, you'll be able to accept or reject any food delivery jobs that you see. You'll be able to see what the delivery is worth and if you'll be receiving any tips as well.
For every delivery you accept, you'll receive at least $6 per delivery. Any tips that you receive are 100 percent yours to keep.
To qualify to be a DoorDash driver, you'll have to meet a few requirements. Here is a list of what you need to qualify as a driver for DoorDash.
Be at least 18 years old
Have a valid driver's license
Have valid car insurance (unless you are delivering via bike)
Must have a smartphone like Android or iPhone, and the updates should be the latest
You'll have to pass a background check
When you deliver meals for DoorDash, you receive payment weekly. You'll also be able to set your schedule.
Just keep in mind that some times throughout the week are more popular, such as nights and weekends, and offer more pay than others.
Read our Postmates vs. DoorDash driver review to learn more about how this app works.
3. Uber Eats
While Uber already has a platform to drive people around town, it also offers meal delivery.
Instead of driving around people, you deliver meals to customers. If you're already driving with Uber, you can do Uber Eats as well and do them both for extra money.
Like DoorDash, you can see the deliveries and choose which ones you want to do upfront. You'll also see what the pay will be if you accept.
You can create your schedule and you make money per delivery, plus any tips you earned. You receive payment every Monday.
There are a few qualifications you'll need to meet to be a driver with Uber Eats, such as:
Be at least 19 years old
Have a valid ID (including your passport, driver's license, or identity card)
Have a car that is newer than a 1999 model
Depending on the city, you'll also have to prove city residency
Have a vehicle with at least two doors (unless delivering via scooter, motorbike, or bicycle)
If driving a scooter or motorcycle, it must have at least a 50cc motor
Have valid insurance, registration, and other documents if driving a car
Thanks to their name recognition, Uber Eats is one of the best delivery app gigs in the space. Again, you can work for both Uber and the meal delivery service to help maximize earnings.
4. Grubhub
Grubhub is a lot like DoorDash and Uber Eats. Originally an online provider of restaurant menus, Grubhub is now one of the best delivery jobs like Instacart Shopper.
Like other driver app jobs, you can deliver meals via car, scooter, or bike.
Grubhub does have a few extra qualifications that its drivers must meet. Here is how to qualify:
Be at least 19 years old (21 in Chicago)
Have at least two years of driving experience
Must have a smartphone
Have a valid driver's license and vehicle insurance
Must have a checking account
Pass a background check
If you meet all of these qualifications, you can become a driver for Grubhub. Similar to other Instacart Shopper alternatives, Grubhub offers a guaranteed base pay.
You also receive payment for each mile you drive.
The base rate is $3.25 per order and $0.50 per mile you drive. Online reports indicate many drivers earn at least $20 per hour with this app, making it one of the highest paying delivery app gigs to use.
5. Shipt
Shipt is one of the closest food delivery jobs similar to Instacart Shopper. The Shipt app works with retailers like Target, H-E-B, and Walmart. So, if you have their stores in your area, you'll most likely be able to sign on as a Shipt driver.
To qualify to be a Shipt shopper, you'll need:
To be at least 18 years of age
Have a valid U.S. driver's license and auto insurance
Have a vehicle that is newer than the 1996 models
To be able to lift 40 pounds
Have insulated cooler bags (you can purchase them online or grab them from Shipt)
Have an iPhone (iOS 10 or later) or Android (5.1 or later) smartphone.
When you're a personal shopper for Shipt, you can choose your hours and schedule. However, you will have to schedule your hours in advance, so keep that in mind.
You'll select shifts five days in advance.
The great thing about Shipt is that you can choose to shop wherever you want. For example, if you only want to shop at Target and deliver within that area, you can do so.
You can also choose to travel a few extra miles.
Make Extra Money by Taking Short Surveys
Taking short surveys in your free time can be an awesome way to earn extra money fast! The instant you finish a survey,
Survey Junkie pays you in cash via PayPal
. 6 Million users and an 8.9/10 Trust Pilot rating prove you can trust them.
But this is great if you don't want to be driving around too much in your vehicle.
6. Favor
Favor is newer on the food delivery scene and primarily only available in Texas, but the service is growing. If you live in one of their cities and qualify as a driver, you can start right away.
Favor is an app that allows customers to order more local cuisine, not just food from chain restaurants. You can also deliver groceries with Favor. As a driver (or as Favor calls you, a runner), there are a few qualifications you must meet.
Must have an iPhone or Android phone
Be able to lift up to 30 pounds
Must have reliable transportation and a clean driving record
Must be at least 18 years old
If you qualify and become a driver, you'll get guaranteed pay between $10-$18 an hour, plus 100 percent of all the tips you earn. You can also set your schedule.
7. Your Local Grocery Store
If you're looking for delivery jobs like Instacart Shopper, look no further than your local grocery store. The on-demand sector is rapidly gaining popularity in grocery stores, with many now offering delivery to customers.
Stores often have perks for their employees, like food discounts, college reimbursement, and more. Plus, you'll be able to learn the store inside and out.
As an employee, you won't be able to choose your schedule as easily, and you may make less money than if you were self-employed.
However, you won't have to worry about paying taxes yourself (employers withhold those automatically from your pay), and you'll also qualify for other benefits.
The biggest plus is you won't have to drive as much, except getting to and from the store.
If you're looking for something a little more stable, with hours that you can manage, working for your local grocery store could be a great option.
And some have even started their own delivery programs, so you can drive the company car/truck and still get out to meet other people.
How to Increase Earnings As a Food Delivery Driver
A lot of delivery driver app gigs claim that you can earn $20 or more per hour with their service, but it's not always possible. You may find a lot of people deliver meals in your area or live in a smaller town.
However, that's not to say it's impossible to make good money with jobs similar to Instacart Shopper, because it is. There are ways to increase earnings, such as the following:
Pay is typically higher on nights and weekends, so focus on those opportunities
Provide excellent customer service
Don't overlook lunch hours to increase earnings, especially if you live in a larger city
Accept multiple deliveries at once, if the app allows it
Work fast as some apps give bonuses for completing more orders
Sign up for multiple services to find the best-paying driver gig
You likely won't replace your day job, but many driver apps offer an excellent way to supplement your income.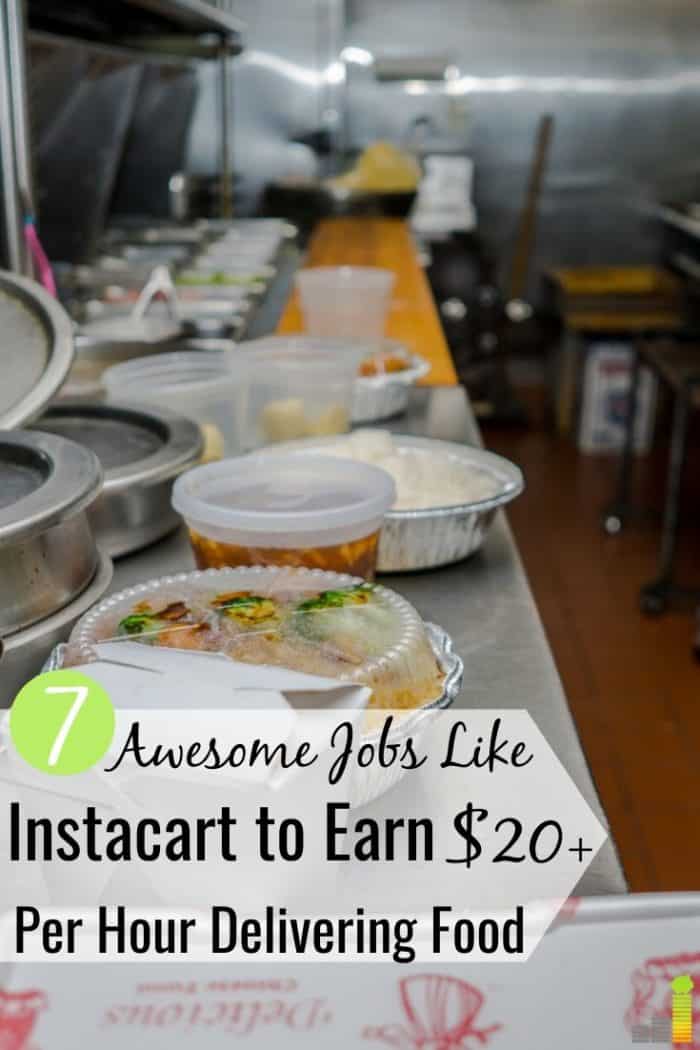 Jobs Similar to Instacart Shopper: Bottom Line
There are numerous delivery jobs like Instacart Shopper that allow you to earn extra cash on the side. With most opportunities, you're an independent contractor, which provides flexibility but also puts earnings and withholding taxes on you.
However, based on where you live and your availability, you can often earn close to $20 per hour or more. That kind of income goes a long way to help you meet financial goals you may have.
What's your favorite way to make money on the side? How would earning $20 per hour on the side help you to reach your goals? What on-demand delivery driver gig has worked best for you for earnings?
The post 7 Jobs like Instacart Shopper to Make $20+ Per Hour appeared first on Frugal Rules.
Source: Frugal Rules