Researching Disney Plus for this review before the Disney Plus release date was difficult, but fun. You see, I am a Disney nerd. I know it and embrace it. So, I was pretty excited about the new Disney streaming service from the moment I first heard about Disney+.
That was the fun part.
The challenge was that Disney was being pretty tight-lipped about what Disney Plus shows and movies would be on the Disney streaming app.
I knew the basics. Disney Plus content (movies and TV shows) would include:
Star Wars
Marvel
Pixar
All the Disney Princess movies
All the Disney animated movies
The Mandalorian
National Geographic content
The Simpsons
I was ready to cancel my Netflix subscription and replace it with Disney+ . My kids were not.
"How will we watch Captain Underpants?" they cried!
We kept both and dove head first into the new Disney+ universe. What I discovered about Disney Plus, I'm sharing with you in this Disney Plus review.
Disney Plus Review
Before you try Disney+ , you should know what you're getting in to. That's why our Disney+ review provides:
Disney Plus Price
Disney+ Shows
Disney+ Movie List
Disney Plus Devices
Disney Plus Bundle
Brooks Barnes wrote for the New York Times about all the ways Disney advertised the Disney+ app. The marketing team really wants you to know about the new Disney streaming service.
What they weren't telling you before the Disney Plus release date of November 12, we're telling you here, now from firsthand experience.
Disney+ Price
Firstly, Disney made waves when it announced that it would charge just $6.99 per month for the new Disney streaming service. That puts Disney Plus below Netflix's cheapest plan, which costs $8.99 per month.
You can read our breakdown of Netflix vs. Hulu to see why we prefer the latter in a showdown.
Disney ran deals for early adopters. I signed up at $69 for an entire year of the Disney streaming service.
Early on, Disney realized that streaming subscription burnout is a real thing.
Many people (myself included) are sick of having multiple streaming service subscriptions. It's easy to cobble together three or four services and end up paying more than you want to for content.
So Disney announced a Disney Plus bundle that includes Disney+ , Hulu, and ESPN+ content for $12.99 per month. Subscribing to all three separately would cost $5 more.
This was good news for our family, since we already subscribe to Hulu. It's even better for us since we enjoy watching sports. Between Hulu Live and ESPN+, there's pretty much nothing we want to watch that we can't.
If you're worried about Disney Plus not having enough adult content for you, the bundle provides all of Hulu's original content (e.g., Handmaid's Tale, Castle Rock, etc.) and its massive on demand library as well.
At $12.99 per month, it may be a cost-effective way for you to meet all your family's content needs.
Pair it with a digital antenna like the Mohu Leaf and you'll get all your local channels as well.
Disney Plus Content
If you're anything like me, you'll be surprised at what Disney Plus content includes. Right across the top, Disney segments its content into five buckets:
Disney content
Pixar content
Marvel content
Star Wars content
National Geographic content
Within each of those buckets are dozens upon dozens of movies, documentaries, TV shows and series. Even better, all Disney Plus content is family-friendly. I can let my kids browse freely, knowing there's nothing harmful or age inappropriate.
Star Wars nerds like me will notice right away that The Last Jedi (Episode 8) isn't on Disney Plus yet. I imagine that's because it's one of the few Disney movies still licensed to Netflix.
While most Disney content has left Netflix, some remains. What is left will be leaving soon though. So, if you're weighing Disney Plus vs. Netflix, keep in mind that eventually, there will be no Disney content on Netflix.
Disney Plus Shows
Disney Plus debuted with original programming ready to stream. There are original series and movies created for Disney+ viewers.
These shows and others are only available on Disney Plus:
The Mandalorian (which is absolutely fantastic!)
Lady and the Tramp (live action remake)
High School Musical The Musical The Series
Encore!
The World According to Jeff Goldblum
Noelle
Marvel Hero Project
The Imagineering Story
Forky Asks a Question
Float
Family Sundays
I'm sure more original Disney Plus shows are in the works. When you pair them with all the other amazing Disney Plus content, there's more than enough to keep you entertained.
Disney+ Movie List
People don't realize all that Disney owns. Marvel, Pixar, Star Wars, and Disney's massive content library from nearly 100 years of filmmaking mean there's a universe of quality programming to enjoy.
A few of the hit movies currently available on the Disney Plus Movie List include:
All the Disney Princesses movies (All the Elsa, Ariel, Snow White and Belle you could want. I stopped counting at 30.)
Marvel Avengers Endgame (and so many more Marvel movies)
Frozen
Avatar
Toy Story (and all the Pixar movies)
All the Star Wars movies (minus TLJ)
Heartwarming Disney sports movies like Remember the Titans, Miracle, Secretariat and Invincible
Disney classics like Mary Poppins, The Sound of Music, Old Yeller, The Muppet Movie, Newsies, High School Musical and The Parent Trap
The above just barely scratches the surface. Really, if any of this sounds intriguing, try Disney+ free for two weeks and browse their massive library for titles you like.
Disney Streaming Service Supported Devices
Like all the major streaming services, you can stream Disney Plus on just about anything. If you have any of the following, you can watch Disney Plus:
Amazon Fire TV and Fire tablets
Roku (boxes, TVs and sticks)
Apple TV
Macbooks, iPads, iPhones
Any computer with an internet browser
Google Chromecast
Xbox One
Samsung and LG Smart TVs
Bottom line – it's really easy to stream Disney Plus.
User Interface and Viewing
Disney invested a lot in its interface and it shows. We've tried watching from smartphones, tablets, computers, and TVs and Disney+ looks great on all of them. If you're new to Disney, you may feel overwhelmed by the sheer volume of content.
If you're a Disney nerd, you'll find Disney Plus content easy to browse and watch.
Like other streaming services, clicking on a title brings you to a synopsis and the option to start watching. You can pause, rewind, and fast forward while watching.
All Disney Plus content is commercial-free.
Disney does it's best to segment content into logical categories:
Originals
Titles recommended for you
Hit movies
Out of the vault
Mickey Mouse through the years
Inspired by true stories
Ultra HD and HDR
Musicals
Disney Channel favorites
Throwbacks
Disney Junior Series
Feel good sports movies
Documentaries
If nothing in any of those categories interests you, just click 'search' and more categories, like 'Disney Through the Decades' will appear. You can also type any title directly into search to find a specific movie or show.
Disney Plus vs. Netflix
Disney Plus vs. Netflix, which is better for families? We see this question a lot. It's important, because subscribing to both may not make sense for everyone.
Comparing price, content and streaming quality may help you decide.
Price – Disney+ is cheaper than Netflix. Netflix offers three plans ($8.99, $12.99 and $15.99 per month), but each costs more than Disney Plus. Disney+ is just $6.99 per month or $69 if you pay for a year upfront. Disney+ also offers a bundle with Hulu and ESPN+ for just $12.99 per month.
Content – Disney+ has more content for families. Netflix no longer has Marvel content and soon won't have any Star Wars shows. However, Disney+ doesn't have anything close to Narcos, Orange is the new Black, When They See Us, Glow or other gritty, adult content.
Streaming Quality – This is a tie. Both Netflix and Disney+ have excellent streaming quality. Disney+ allows you to download content to more devices (10) than Netflix (4). Both offer 4K content, and while Netflix offers more 4K titles, you'll have to pay more for it ($15.99 per month).
If you're looking for content that adults and children will enjoy, you may want to try the Disney+ bundle, which includes Hulu and ESPN+ for just $12.99 per month. Or, stick with Netflix and skip Disney Plus.
If your kids like Boss Baby, Trolls, Voltron, DreamWorks' Dragons, My Little Pony, they'll still have animated content to enjoy on Netflix.
Other Streaming Services
It's worth noting that Disney+ and Netflix aren't the only streaming services on the market. While they are two of the top on demand providers, they don't offer live TV.
If you're looking to cut the cord and want a streaming service with live TV, you have choices. Philo, FuboTV, AT&T Now and Hulu Live are all excellent substitutes for cable.
Personally, we prefer Hulu Live. We've subscribed to Hulu Live for some time. During college football season, it's the best way for us to see all our teams' games.
For $54.99 per month (beginning Dec. 18, Hulu Live prices rise from $44.99 per month to $54.99), you get live TV with popular networks like ESPN, CNN, HGTV, and local channels.
You also enjoy Hulu's entire on-demand library of content, including originals like The Handmaid's Tale.
Try Hulu Live free for a week to see what you think.
Read more about Hulu with Live TV in our comprehensive review.
Keep in mind that Disney+ is an on demand service. This means it has no live TV content. If you want live TV and Disney Plus, consider pairing a Disney+ subscription with Hulu Live or one of the cable replacements mentioned.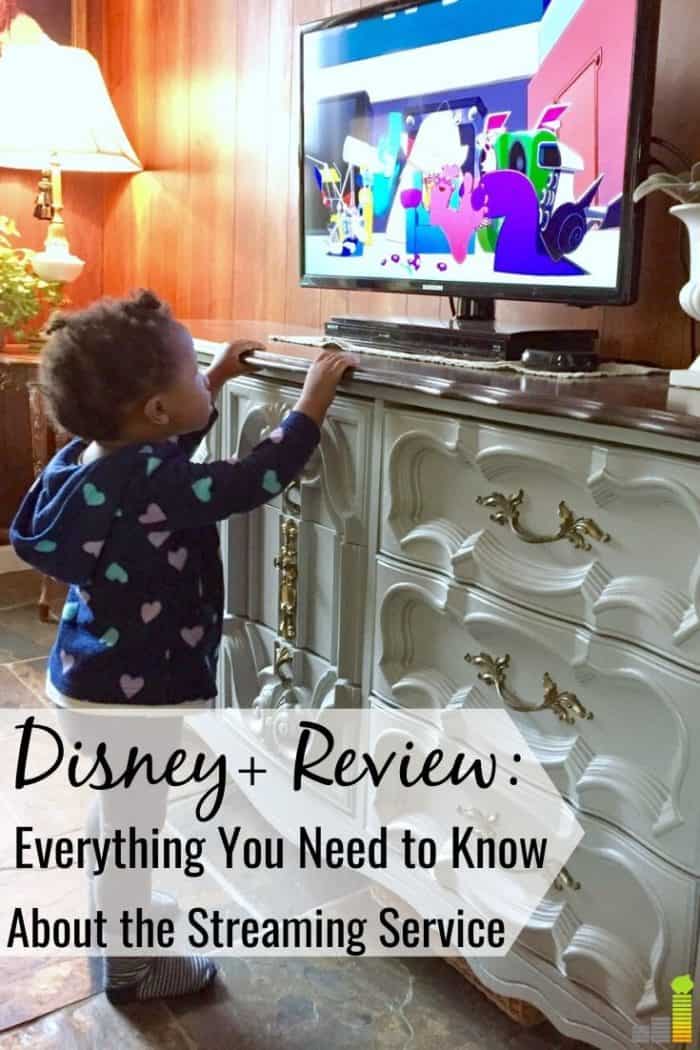 Disney+ App Review: Bottom Line
Disney+ is an excellent deal, especially if you like Disney content. It's almost a must-buy for families. At $6.99 per month or $69 a year, it's less expensive than rival service Netflix.
While it won't completely replace cable, the Disney Plus bundle with Hulu and ESPN+ for just $12.99 is enticing.
Pair that with a digital antenna so you can watch local channels, and you could save a boatload over cable. The average American spends $110 per month on cable.
A Disney+ standalone or bundle subscription saves you $100 per month.
Just think of what you could do with an extra $100 per month!
What are your thoughts on Disney+? What questions do you have about Disney Plus? Are you a Disney nerd, or just looking for something to keep your kids happy? Which service is better for families – Netflix or Disney Plus? Let us know your thoughts in the comments!
The post Disney Plus Review: A Great Streaming Service for Families appeared first on Frugal Rules.
Source: Frugal Rules