If you like the idea of getting to try new products before anyone else, I have an excellent opportunity for you. Companies thrive on feedback from prospective customers, and one way they solicit feedback is to pay users to try products at home first. That's right, you can get paid to test products at home in your spare time.
This helps companies learn what consumers think about a product or service. It also allows them to learn if the product needs improvement before going live to the mass market.
If you're looking for a simple way to make extra money at home, our guide gives you everything you need to start product testing for money.
11 Best Ways to Get Paid to Test Products at Home
There are different ways to get paid product testing jobs from home. Some sites have other small tasks for users to complete for money, and others focus mostly on getting people paid to review products.
Some even mail you free products to try out.
In most cases, you'll receive points that are convertible into gift cards or cash you can transfer to PayPal. Testing products before their release to the public is a great way for companies to ensure their products are as polished as possible.
Customers usually get to keep the remaining product, and this is something that doesn't cost them a lot to do. It's considerably cheaper to pay users to test products at home than to sell a deficient product or service.
The more sites you join, the more chances you have to make money. Like paid survey sites, it's best to use a separate email address so that your primary inbox doesn't fill with product testing offers.
Here are the best 11 sites to help you get paid to test products at home for free.
1. Pinecone Research
Pinecone Research is one of the top choices to get paid to try products at home because the service is invite-only. The only other way to join the community is by clicking the above link.
Positions to test products aren't always open with Pinecone Research. Don't give up, though, as they often add spots for new users.
Pinecone likes their products to only be used by their panelists and immediate family, so you can't give products to friends and family outside of the home.
You receive payment for your time to test the product, plus Pinecone Research pays you $3 to complete a survey on the product after your trial is over. You'll usually be able to keep the sample, but there will be times when you will be asked to send back the item.
Pinecone Research pays in PayPal cash, gift cards, and check. You can choose which option you prefer. The platform also offers a $500 bi-weekly and $4,500 quarterly cash sweepstakes to increase earnings.
Read our review of Pinecone Research to learn more about the platform and how to maximize earnings.
2. Swagbucks
Swagbucks is one of the more robust platforms in our list of ways to make money testing products at home. The Swagbucks platform is a get-paid-to (GPT) site that pays you to complete small tasks online, including product testing.
Other ways you can make money on Swagbucks include:
Answering surveys
Watching sponsored videos
Playing games online
Using their search engine
You earn points, known as SB points, for each task you complete. Product testing is one of the best ways to earn points on Swagbucks, usually via testing products or websites online to ensure they perform correctly.
You can redeem points for gift cards or cash to your PayPal account. And Swagbucks gives you $10 when you open an account.
Read our review of Swagbucks to learn how the platform works and how to increase earnings.
3. Vindale Research
Vindale Research is one of the higher paying options to get paid to try products at home as they pay up to $75 per review. Like others on our list, Vindale offers other ways to make money, such as completing surveys, but the money is in product testing.
To qualify for product testing with Vindale, you must answer a short set of questions. If you are eligible, you must answer questions about the online service or physical product you tested.
While you won't get to keep the product with Vindale, the lucrative payout makes up for it.
Vindale Research pays new users $1 when they open an account, and you can redeem earnings via gift cards or PayPal cash.
Read our review of Vindale Research to learn more about the platform.
4. MyPoints
MyPoints is similar to Swagbucks, as it's a GPT site. Not only can you get paid to test products at home for free with MyPoints, but you can also earn money in other ways, including:
Reading sponsored emails
Using their search engine
Playing games online
Like others on our list, you can make money by signing up for offers through their portal. You can even refer friends to MyPoints, and you get to earn ten percent of their qualifying points.
MyPoints also gives you $10 added to open an account, as long as you spend $20 through their shopping portal within 30 days of joining. You can redeem points via gift cards.
5. Toluna
Toluna is known for one key thing, working with major companies to learn how we like products and services. The Toluna platform boasts one of the largest user groups in the space, with over ten million active members.
You can test products in two ways with Toluna – through direct invitation and applying for opportunities through their site. If you qualify, they send you products to test, including anything from food to beauty products.
Payment is made in points, which you can convert to earn gift cards, free PayPal money, or free products.
6. OneOpinion
OneOpinion is one of the highest-paid product tester opportunities as the platform pays up to $100 per completed test. The only drawback is that they require an invitation to test various products at home, so not all opportunities are so lucrative.
Make Extra Money by Taking Short Surveys
Taking short surveys in your free time can be an awesome way to earn extra money fast! The instant you finish a survey,
Survey Junkie pays you in cash via PayPal
. 6 Million users and an 8.9/10 Trust Pilot rating prove you can trust them.
Like other platforms, OneOpinion is a great way to learn about new products and services, and potentially have an influence on their development. However, unlike other platforms, multiple people in your home can join OneOpinion to increase earnings.
You can redeem points for gift cards, PayPal money, or a Visa debit card.
7. Opinion Outpost
Opinion Outpost is well-known in the paid survey space. The platform also offers opportunities to make money testing products at home. Like others in the space, Opinion Outpost also invites members that qualify to test focused products and services.
One area that sets Opinion Outpost apart is their focus on minimizing time to complete both paid surveys and product testing. They want you to maximize your per-hour earnings, which is always a plus.
Opinion Outpost is also unique in their payment offerings as you can receive payment in up to seven ways – including gift cards and PayPal money. If you like to earn free Amazon gift cards, this is the platform to pick!
The quarterly drawings are the best part of Opinion Outpost. They pay out $10,000 in cash to one lucky winner each quarter.
8. MySoapBox
MySoapBox is a member of the Interview Service of America. It gives its users the chance to voice their opinion through both activities and research studies, which may result in future product improvements.
MySoapBox is another high-paying product testing gig, as they pay up to $50 per completed test. The platform pays out in points, and you can convert those points to redeem gift cards.
While not a cash payout, the platform offers dozens of gift card options, which still counts as free money.
9. FusionCash
FusionCash is another GPT site focused on product testing jobs from home. These opportunities typically involve testing apps or websites, though they do include physical products as well.
Other ways you can earn money on FusionCash include:
Completing paid surveys
Using their shopping portal
Reading sponsored emails
Like other ways to make money testing products at home, you may need to sign up for a product or service to test it. It's best to set a reminder for yourself to cancel the item, so you don't need to pay for it at the end of the trial period.
FusionCash gives you $5 to open an account, and you can redeem earnings via check, direct deposit, or PayPal.
10. Friends and Neighbors
Nearly everyone knows about Johnson & Johnson. They're one of the largest brands on earth and have countless popular products. Their Friends & Neighbors program is how they gain valuable insight into what we as consumers think of their products.
You can test anything from fragrances to cosmetics or other similar self-care products, either at home or at a local Johnson & Johnson testing facility.
And, you can keep products at the end of their respective trials.
The company rewards honest reviews on their products with prepaid Visa cards. Their website doesn't include a lot of information on payout amounts, but given their popularity, this is an excellent opportunity to get paid cash to test products.
11. McCormick & Company
McCormick & Company is last on our list of opportunities for product testing for money. The McCormick company is well-known for its line of spices and seasonings. When you apply to test their food products, they notify you via email of upcoming chances to earn money.
While you can test products at home, McCormick also offers in-facility testing if you live in the Baltimore area. In-home testing pays $10 to $15, though expect that amount to increase to $30 for in-facility testing.
Payout is via Amazon gift cards and not cash. However, free money on Amazon is nearly as good as cash. Opportunities to work with McCormick fill up fast, so act quickly when you receive a notification.
What to Know About Free Product Testing Opportunities
Product testing opportunities are a legitimate way to make money from home. However, it's essential to keep certain things in mind, including:
You won't become rich. It's vital to have clear expectations. Testing products at home is a terrific way to add money to your budget, but you won't become wealthy with this opportunity.
Don't pay a fee. You may find opportunities that require a fee. Don't fall prey to them. There are countless ways to get paid to test products at home for free, so run from any options that require payment.
You may need to sign up for free trials. Alternatively, many ways to make money testing products at home require you to sign up for a free trial. Doing so is a perfectly acceptable requirement found on many platforms.
Just remember to cancel the trials, so you don't incur an obligation to pay for a service you don't want.
You can test virtually anything. The possibilities are endless with product testing. You may get paid to test anything from beauty products to a computer or mobile app. Those that are flexible can maximize earning opportunities.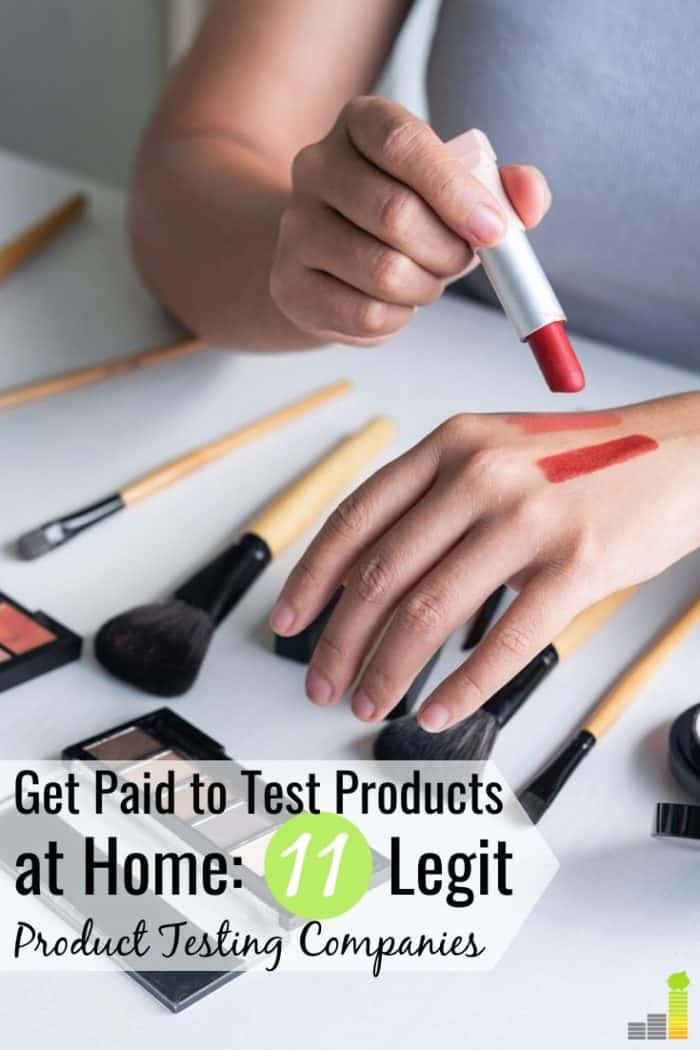 Make Money Testing Products at Home: Bottom Line
If you need a simple way to earn extra money, consider searching for ways to get paid to try products at home. Companies are happy to pay you to try out their products or services and offer quality feedback.
It's also a great way to learn about products you may love. Some of the sites only offer limited product testing, but they are a nice change-up from searching the web, shopping, or other small tasks the survey sites offer.
To maximize your earnings, use several of these sites listed here and see which one works best for you.
What other platforms have you used to get paid to test products at home? How often do you look for a new product and wish you could test prospective items first? What's your favorite way to make money in your free time?
The post 11 Legit Ways to Get Paid to Test Products at Home for Free appeared first on Frugal Rules.
Source: Frugal Rules